Enhancing Patient Experience with Nice HMS and WhatsApp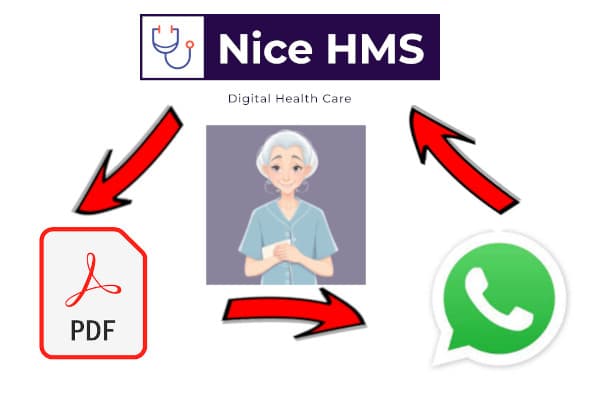 Abstract
Experience a healthcare transformation with Nice HMS and WhatsApp integration. This dynamic duo enhances patient satisfaction and streamlines healthcare delivery. Patients benefit from rapid test report delivery, eliminating the need to endure long waits. With Nice HMS, HealthCare providers can offer home services, allowing samples to be collected at the doorstep and reports to be delivered via WhatsApp. This innovative approach opens up revenue streams while catering to today's busy lifestyles. Teleconsultations are made effortless as patients can share reports with doctors, who can even prescribe treatments through the same platform. Consultants receive reports quickly, making it convenient for them to finalize prescriptions. Welcome the future of healthcare with Nice HMS and WhatsApp.
Introduction:
In the fast-paced landscape of modern healthcare, ensuring a seamless patient experience is nothing short of a necessity. Healthcare providers face a common challenge—the wait times associated with receiving critical test reports. Patients, eager to minimize the inconvenience and lengthy waits, often explore alternatives closer to home. Fortunately, there is a straightforward solution to this problem that can enhance patient satisfaction and foster loyalty to your healthcare facility - delivering patient reports through WhatsApp.
Scenario 1: Streamlining Test Reports
Here's how it works: your dedicated lab technician collects a patient's blood sample, and within 2 to 3 hours, the essential test report is ready. Rather than asking the patient to endure the wait, you can extend the convenience of receiving the report directly to their WhatsApp account. This small change can make a significant difference. Patients are less inclined to seek testing services elsewhere, appreciating the convenience and the rapid delivery of their test results.
Scenario 2: Home Service and Teleconsultations
With Nice HMS, your role as a healthcare provider evolves to the next level. You can offer the convenience of home service, allowing your staff to collect samples at the patient's doorstep and delivering the reports seamlessly through WhatsApp. This approach not only enhances the patient's experience but also introduces a new revenue stream for your healthcare facility.
This strategy caters to the demands of today's busy lifestyles and brings forth new possibilities to improve patient care. Patients can effortlessly share their reports with their physicians via WhatsApp, enabling teleconsultations. Doctors can review the reports and even provide prescriptions via the same platform. This streamlined process benefits everyone involved: the doctor, the lab personnel, and, most significantly, the patient, who becomes a happy and satisfied consumer.
Scenario 3: Streamlined Consultation
In many cases, after consultations, patients are advised to undergo certain tests. As test reports take a few hours to become available, it's inconvenient for both the consultant and the patient to sit and wait for the final prescription. Nice HMS solves this problem seamlessly. Once the blood sample is collected, it can be sent via WhatsApp to the patient and optionally to the consultant (otherwise, the doctor can check it within the mobile app by logging into Nice HMS). Here, the doctor can complete the prescription in Nice HMS and send it directly to the patient via WhatsApp. This not only makes the doctor's life easier but also ensures that the patient receives both the prescription and test report directly on their WhatsApp.
Conclusion:
Integrating Nice HMS into your healthcare facility is not just a forward-thinking solution—it's a game-changer that optimizes the patient experience while enhancing the overall efficiency of healthcare delivery. The win-win solution ensures patient satisfaction and loyalty while elevating the quality of healthcare services to new heights.
In the fast-paced world of healthcare, where time is a precious commodity, adapting to innovative solutions like WhatsApp for document delivery is a strategic move that promises better patient outcomes and heightened patient loyalty. Embrace the future of healthcare delivery with Nice HMS today.
---
This Unlock the Future of Healthcare Management! 🚀🏥🌟
Is managing your hospital, clinic, or lab becoming a daunting task? Experience the ease and efficiency of our cutting-edge Management Software through a personalized demo.