Earning with Scan and Share: DHIS & Nice HMS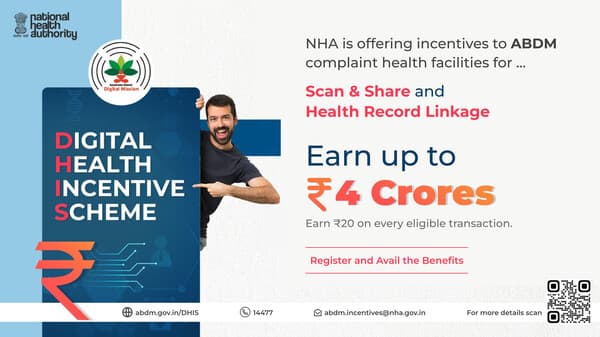 Abstract
Explore the transformative impact of the DHIS scheme and the innovative Nice HMS in the realm of healthcare. This groundbreaking digital health incentive scheme, introduced by the National Health Authority (NHA) within the Ayushman Bharat Digital Mission (ABDM), encourages healthcare facilities to adopt Hospital Information Management Systems (HIMS) compliant with ABDM standards. The key feature, "Scan and Share," simplifies patient registration and enhances the patient experience. By scanning QR codes, patients can effortlessly provide their information, earning incentives for healthcare facilities. This streamlined approach not only ensures a seamless healthcare journey but also contributes to the broader vision of digitizing health records. The system benefits patients, healthcare providers, and the Indian healthcare ecosystem, offering a glimpse into a more efficient, interconnected future.
In an era where technology is transforming the healthcare landscape, the National Health Authority (NHA) is leading the way through its Ayushman Bharat Digital Mission (ABDM). Within this mission, the NHA has introduced a groundbreaking Digital Health Incentive Scheme, better known as DHIS, a pioneering initiative designed to reshape the way healthcare is delivered in India. This innovative scheme offers incentives to healthcare facilities that embrace Hospital Information Management Systems (HIMS) meeting ABDM standards, with Nice HMS being a shining example. The DHIS initiative, launched by NHA within ABDM, not only promises to bring about substantial changes in healthcare but also aims to increase awareness among healthcare providers and patients across the nation.
NHA's Vision: Transforming Healthcare for a Digital Future
NHA's vision stretches beyond a mere incentive program. It aspires to usher in a new era of healthcare by digitizing every health record, ensuring seamless interoperability across all healthcare facilities, whether they are government-run or private, and regardless of the vendors they choose. This visionary undertaking is a pivotal component of NHA's long-term strategy to create a unified and efficient digital healthcare ecosystem.
The "Scan and Share" Revolution: Empowering Patients and Healthcare Providers
With the revised DHIS scheme, effective as of April 2023, healthcare facilities can now earn incentives by utilizing the user-friendly "Scan and Share" feature. This feature is designed to streamline the patient registration process in healthcare settings, making it a seamless and hassle-free experience. Patients can easily access the ABHA app, provided by NHA, which can be downloaded from the Google Play Store. With this app, patients can create an ABHA account and use it to scan the Hospital QR code generated from NHA's Health Facility Registry (HFR) website.
When patients use the app, they receive a unique token number. Upon reaching the hospital's reception counter, their demographic information is effortlessly populated within Nice HMS with a simple click by the receptionist. This advanced system not only simplifies patient registration but also significantly contributes to the broader objective of digitizing healthcare across India. Importantly, demographic details are extracted from the patient's Aadhar, ensuring accuracy and efficiency.
Enhancing Efficiency and Patient Experience
But the DHIS scheme doesn't stop at "Scan and Share." Healthcare facilities can further bolster their incentives by sharing the patient's health record with the ABDM gateway, seamlessly integrated into the Nice HMS system. This integration operates in the background, without requiring additional effort from healthcare workers, including doctors.
Every "Scan and Share" action and each shared patient document are considered distinct transactions, with hospitals earning Rs 20 per transaction. Patients are entitled to only one incentive per day, even if they have multiple transactions. Over the course of a month, each patient can accumulate up to five incentivizable transactions. It's important to note that the incentive counting begins after the first 100 transactions for healthcare facilities.
Take the First Step Toward a Digital Healthcare Future
To enroll in the DHIS scheme, healthcare facilities can register on the NHA's HFR website. During registration, they will be required to provide identification proof and bank details, ensuring a secure and streamlined process.
The DHIS scheme, driven by NHA within the ABDM, and empowered by innovative systems like Nice HMS, holds the promise of not only simplifying the healthcare experience for patients but also propelling India towards a more efficient and interconnected digital healthcare ecosystem. As we embrace this digital transformation, we look forward to the day when every patient's journey through the healthcare system is marked by simplicity, efficiency, and accuracy.
Request a Demo of Nice HMS Today
If you're a healthcare provider looking to experience the transformative power of Nice HMS, we invite you to take the first step towards a more efficient and digitally connected healthcare system. Request a demo of Nice HMS by filling out the contact form below, and let's work together to shape the future of healthcare in India.
---
This Unlock the Future of Healthcare Management! 🚀🏥🌟
Is managing your hospital, clinic, or lab becoming a daunting task? Experience the ease and efficiency of our cutting-edge Management Software through a personalized demo.