Nice HMS Lab Module: ABDM Triple Milestone Certified, HL7 FHIR, LOINC, Machine Interface for pioneering diagnostics.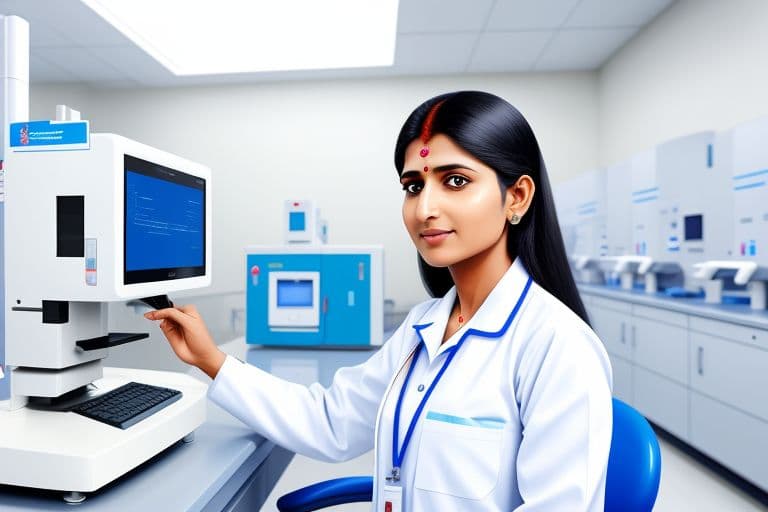 Abstract
The Triple Milestone Certified Nice HMS Lab Module of Ayushman Bharat Digital Mission revolutionizes healthcare diagnostics by seamlessly integrating comprehensive reports, encompassing lab tests, radiology, endoscopy, and more. It streamlines initiation, billing, and customization, catering to the specific needs of the hospital. Leveraging HL7 FHIR integration and LOINC standardization enhances interoperability, while optional machine interfacing ensures rapid, accurate reporting. Nice HMS sets a new standard in diagnostics, aligning with the Ayushman Bharat Digital Mission's vision for advanced, interconnected healthcare systems.
Introduction:
In the ever-evolving realm of healthcare technology, a groundbreaking solution has emerged: the Ayushman Bharat Digital Mission's Triple Milestone Certified Nice HMS (Hospital Management System). A standout feature within this comprehensive system is the integrated Lab Module, a beacon of innovation that empowers hospitals and clinics to seamlessly generate comprehensive diagnostic reports. Moving beyond traditional systems, which often focus solely on specific lab tests, Nice HMS adopts a holistic approach, spanning laboratory tests, radiology, endoscopy, cath lab procedures, and more. This blog post delves into the intricacies of the Nice HMS Lab Module, shedding light on its transformative impact on diagnostic reporting while adhering to the Ayushman Bharat Digital Mission's guidelines. Additionally, we explore Nice HMS's utilization of HL7 FHIR integration, LOINC standardization, and its optional machine interfacing, taking diagnostics to unprecedented levels of efficiency and accuracy.
Redesigning Diagnostics for the Modern Era:
Diagnostic reporting stands as a cornerstone of modern healthcare, guiding medical professionals in delivering precise and timely patient care. While traditional diagnostic reports were confined to standard lab tests like Complete Blood Count (CBC) and Renal Function Tests (RFT), Nice HMS transcends these boundaries, redefining the scope of diagnostics. With the capability to generate reports spanning diverse specialties including radiology, endoscopy, cathlab procedures, and more, Nice HMS offers a comprehensive diagnostic solution in harmony with the Ayushman Bharat Digital Mission's principles.
Seamless Initiatives and Effortless Billing:
A defining feature of the Nice HMS Lab Module is its user-friendly approach to initiating diagnostic reports. These reports can be seamlessly triggered from various points within the healthcare workflow, whether by nurses, doctors, lab technicians, or billing counter staff. This inclusivity reflects Nice HMS's commitment to fostering collaboration among healthcare professionals and facilitating prompt patient care.
Nice HMS also recognizes the pivotal role of billing in diagnostics. A robust mechanism handles billing for diagnostic reports, ensuring transparency and precision in financial transactions. This streamlines the administrative aspects of healthcare operations and cultivates trust between healthcare providers and patients, aligning seamlessly with the Ayushman Bharat Digital Mission's objectives.
Personalizing Diagnostics: Tailored Diagnostic Panels:
Acknowledging the diverse needs of different healthcare organizations, Nice HMS introduces a highly customizable feature: the ability to create diagnostic panels within the Service Request Master. This empowers the administrative team to curate diagnostic panels tailored to specific specialties, patient demographics, and medical requisites. Whether designing a specialized test array for a particular condition or a comprehensive diagnostic profile, Nice HMS adapts to each organization's unique requirements, augmenting the quality of patient care.
HL7 FHIR Integration for Enhanced Interoperability:
Nice HMS pioneers interoperability by utilizing HL7 FHIR (Fast Healthcare Interoperability Resources) objects to store data. This standardized approach ensures seamless data exchange and integration across diverse healthcare systems, facilitating a cohesive and unified patient record. By adhering to HL7 FHIR standards, Nice HMS advances the Ayushman Bharat Digital Mission's vision of interconnected and interoperable healthcare systems.
LOINC Standardization for Consistency and Precision:
In its pursuit of elevating diagnostics to the next level, Nice HMS leverages LOINC (Logical Observation Identifiers Names and Codes) to declare codes in the master of lab tests. This standardization enhances interoperability by providing a common language for describing clinical observations and test results. By employing LOINC codes, Nice HMS promotes data consistency and harmonization, enabling efficient data exchange and meaningful collaboration, aligning seamlessly with the Ayushman Bharat Digital Mission's goals.
Machine Interfacing for Rapid and Accurate Reporting:
Taking diagnostics to unparalleled heights, Nice HMS offers an optional module for mono or bi-directional interfacing with lab machines, including cell counters and biochemistry equipment. This integration guarantees not only accurate and swift reporting but also minimizes human error, significantly enhancing the overall diagnostic process. With real-time data exchange between lab machines and the Nice HMS Lab Module, healthcare professionals can make well-informed decisions based on up-to-date and precise information, aligning seamlessly with the Ayushman Bharat Digital Mission's vision of advanced healthcare technology.
Conclusion:
In the era of cutting-edge healthcare technology, the Ayushman Bharat Digital Mission's Triple Milestone Certified Nice HMS Lab Module stands as a testament to innovation and progress. Through its transformative diagnostic approach, streamlined workflow initiation, billing mechanism, HL7 FHIR integration, LOINC standardization, and machine interfacing, Nice HMS empowers healthcare providers to deliver exceptional patient care across a spectrum of specialties. As the healthcare landscape continues to evolve, Nice HMS remains dedicated to revolutionizing diagnostics, ensuring seamless interoperability, and establishing new benchmarks for excellence, perfectly aligned with the Ayushman Bharat Digital Mission's vision.
---
This Unlock the Future of Healthcare Management! 🚀🏥🌟
Is managing your hospital, clinic, or lab becoming a daunting task? Experience the ease and efficiency of our cutting-edge Management Software through a personalized demo.