Streamlining Billing for Indian Medical Facilities: A Milestone in Nice HMS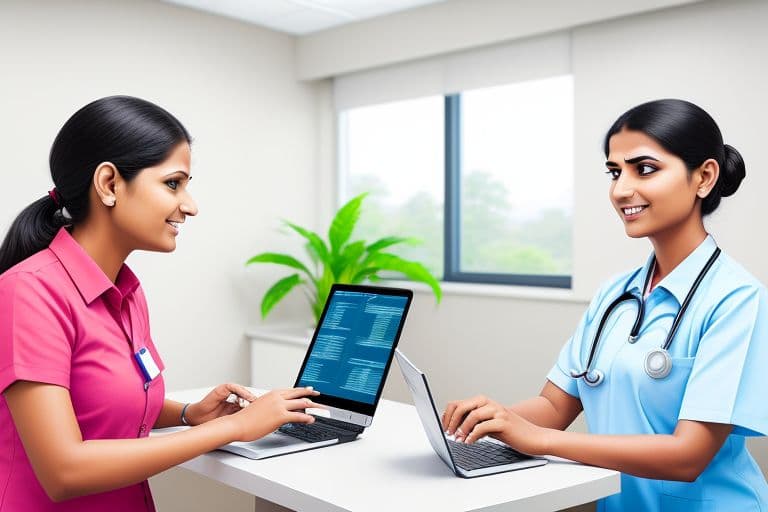 Abstract
The blog post discusses the innovative strides of Nice HMS, a web-based Health Information Management System, in streamlining billing for Indian medical facilities. By introducing a dual-entry system, role-based access, and efficient cash handling, Nice HMS simplifies complex billing processes. Clear differentiation between invoices and credit notes prevents revenue discrepancies, while printing capabilities ensure compliance. The system's comprehensive encounter-wise reporting offers valuable insights into diverse payment sources. Through these advancements, Nice HMS revolutionizes healthcare billing, promoting efficiency, security, and patient-centered care.
Introduction:
In the ever-evolving landscape of Indian healthcare, where patient-centricity and efficient management are of paramount importance, the emergence of modern Health Information Management Systems (HIMS) has proven to be a game-changer. One such notable achievement is the ABDM Triple milestone of Nice HMS, which has set a new standard in web-based HIMS tailored for Indian medical facilities. In this blog post, we will delve into the intricacies of billing within Nice HMS, showcasing how it has been meticulously crafted to cater to the unique needs of Indian healthcare providers.
Navigating the Complex Landscape of Billing:
Billing in Indian healthcare holds distinct challenges, primarily due to the diverse payment sources, ranging from patients' pockets and insurance Third Party Administrators (TPAs) to crucial government schemes. Nice HMS recognized this complexity and responded with a billing system that effectively streamlines the process, while also ensuring utmost transparency and security.
Simplifying Complexity Through Dual Entry:
One of the standout features of Nice HMS Billing is its dual-entry system, which effectively handles the intricate debit and credit transactions internally, shielding users from unnecessary complexities. This approach significantly reduces the learning curve for users, making billing operations straightforward and intuitive. By abstracting complex financial maneuvers, Nice HMS empowers medical staff to focus on patient care without getting bogged down by intricate financial procedures.
Role-Based Access: Empowering Efficiency and Security:
Recognizing the importance of role-based access, Nice HMS ensures that only authorized personnel can access and manage billing-related functionalities. This approach enhances both efficiency and security by granting specific permissions to designated individuals. This becomes particularly crucial when dealing with sensitive financial data and patient information.
Cash Handling Made Effortless:
Cash handling remains prevalent within many medical facilities across India. Nice HMS takes this into account by providing a dedicated cash book for each authorized user. These users are permitted to carry out receipt transactions within their own cash book. This approach not only ensures accountability but also simplifies cash management within the healthcare setting.
Invoice and Credit Note Management:
Nice HMS introduces a clear demarcation between invoices and credit notes, each serving a distinct purpose. Invoices are designed for creating patient bills, while credit notes facilitate the reversal of invoices when required. An interesting aspect here is that, apart from administrators, other users are restricted from editing or deleting invoices. However, the flexibility to delete credit notes is granted. This unique logic prevents inadvertent or fraudulent revenue reduction while still allowing administrators to manage billing intricacies effectively.
Printing Invoices, Credit Notes, Receipts, and Payments:
The billing process is not complete without the ability to generate and manage physical records. Nice HMS goes the extra mile by providing users with the capability to print invoices, credit notes, receipts, and payments. This feature ensures that medical facilities have tangible documentation for their financial transactions, enabling easy record-keeping and adherence to compliance standards.
Encounter-Wise Reporting: Comprehensive Insights for All Payment Sources:
Nice HMS extends its encounter-wise reporting system to encompass all payment sources, including Third Party Administrators (TPAs), insurance, and government schemes. This specialized reporting provides a holistic view of the financial aspects associated with each patient interaction, regardless of the payment origin. This level of insight proves invaluable in understanding the financial health of the facility, identifying trends, and making informed decisions for the future.
Conclusion:
The ABDM Triple milestone achieved by Nice HMS in the realm of web-based Health Information Management Systems is a testament to its commitment to serving the needs of Indian medical facilities. By revolutionizing billing processes and seamlessly addressing the nuances of the Indian healthcare payment landscape, Nice HMS stands as a beacon of efficiency, security, and patient-centricity. With its dual-entry system, role-based access, cash handling solutions, meticulous balancing mechanisms, printing capabilities, and all-encompassing encounter-wise reporting, Nice HMS has ushered in a new era of billing simplicity, ensuring that healthcare providers can focus on what truly matters: delivering superior care to their patients.
---
This Unlock the Future of Healthcare Management! 🚀🏥🌟
Is managing your hospital, clinic, or lab becoming a daunting task? Experience the ease and efficiency of our cutting-edge Management Software through a personalized demo.