AI in Healthcare: Transforming Doctor-Patient Relationships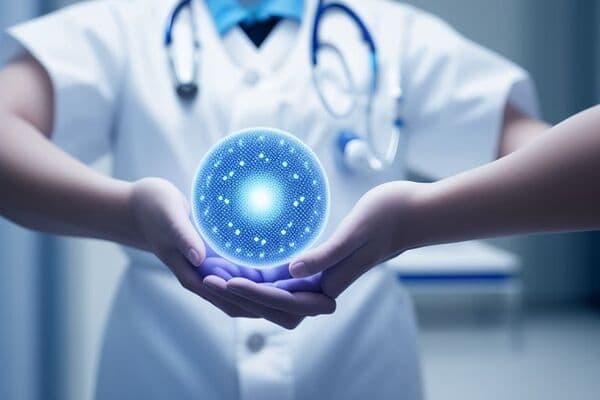 Abstract
The integration of Artificial Intelligence (AI) into healthcare is on the cusp of redefining doctor-patient relationships. Patients are increasingly empowered by AI, transforming them into proactive participants in their healthcare journeys. AI provides personalized medical information, enabling patients to self-manage chronic conditions and reducing hospital visits through remote care. Doctors are transitioning into facilitators of AI-generated insights, with enhanced decision support tools. This shift allows doctors to reallocate time toward complex cases, patient counseling, and research, ultimately improving healthcare quality. However, ethical considerations loom, and doctors must champion responsible AI use. Embracing AI promises a revolutionary and ethical transformation of the doctor-patient dynamic.
Introduction
In recent decades, the world has experienced significant technological advancements, reminiscent of the initial skepticism surrounding VCRs and their potential impact on the cinema industry. However, as history has shown, adaptation to change is inevitable. The healthcare industry is no exception, and AI is poised to revolutionize the practice of medicine, fundamentally altering the doctor-patient relationship. This article explores how AI is on the verge of reshaping healthcare interactions.
The Information-Rich Era
In the modern medical community, patients frequently come to us armed with information obtained from online research. This shift has transformed the doctor-patient interaction into a collaborative problem-solving session, highlighting the wealth of information available. Yet, we must acknowledge the potential pitfalls of incomplete knowledge. With the rise of AI, this trend is expected to intensify, emphasizing the importance of healthcare professionals adapting to these evolving times.
AI's Personal Touch
Unlike Google, which primarily provides links, AI engages with patients in a manner reminiscent of a virtual assistant. It offers tailored recommendations and suggestions, representing a significant departure from traditional internet searches. This paradigm shift in how patients access medical information will have profound implications for the doctor-patient relationship.
Empowering Patients in Chronic Disease Management
AI, especially in the context of chronic diseases, empowers patients to self-manage their conditions, reducing their dependence on healthcare professionals. While this shift presents challenges, improvements in AI systems will mitigate these issues, enabling patients to become more self-reliant. However, it also raises questions about the regulation of AI-driven self-management applications, as they can have deleterious effects on patients, necessitating new regulatory frameworks.
The Shift to Home-Based Treatment
AI is poised to reduce the need for hospital visits, similar to how technology has minimized visits to physical banks. It will enable doctors to manage patients remotely, with wearable devices providing a wealth of data for remote treatment. Early warnings of potential complications can be easily identified and treated.
AI for Resource Allocation
AI can be employed for resource allocation, such as designing a DeepSOFA (Sequential Organ Failure Assessment) for analyzing the severity of illness and predicting mortality.
Balancing Short-Term Expectations with Long-Term Possibilities
Balancing short-term expectations with long-term possibilities is essential when evaluating AI's impact on healthcare. However, this task is challenging due to the tendency to overestimate AI's capabilities in the short term and underestimate them in the long term.
Implications for Doctors
As AI plays an increasingly prominent role in healthcare, healthcare professionals will experience changes in their roles and responsibilities:
1. Evolving Roles: Doctors may transition from being primary sources of medical information to becoming facilitators and interpreters of AI-generated recommendations. They must acquire the skills necessary to understand, validate, and effectively communicate AI-generated insights to patients.
2. Enhanced Decision Support: AI can provide doctors with advanced decision support tools, helping them make more accurate diagnoses and treatment recommendations. Doctors must be prepared to trust and collaborate with AI systems, viewing them as valuable tools rather than threats to their expertise.
3. Time Reallocation: With AI handling routine tasks, doctors may have more time to focus on complex cases, patient counseling, and research, resulting in a more patient-centered approach and enhanced healthcare quality.
4. Continuous Learning: Healthcare professionals must engage in continuous learning to keep pace with AI advancements, adopting new technologies and understanding the ethical considerations associated with AI in healthcare.
5. New Opportunities: The integration of AI into healthcare will likely create new roles and career opportunities for healthcare professionals, such as AI system management, data analysis, and the development of AI-driven healthcare solutions.
6. Ethical Considerations: Doctors will play a crucial role in addressing ethical issues related to AI, such as privacy, bias, and informed consent, advocating for responsible AI use in medicine.
In summary, AI is poised to change the healthcare landscape and the role of doctors, offering opportunities for healthcare professionals to adapt, expand their skillsets, and enhance patient care in collaboration with AI systems. Embracing this change and actively participating in the development and regulation of AI in healthcare will be key to a successful and ethical transformation of the doctor-patient relationship.
---
This Unlock the Future of Healthcare Management! 🚀🏥🌟
Is managing your hospital, clinic, or lab becoming a daunting task? Experience the ease and efficiency of our cutting-edge Management Software through a personalized demo.