Navigating AI in Healthcare: Medicolegal Challenges and the Promise of AI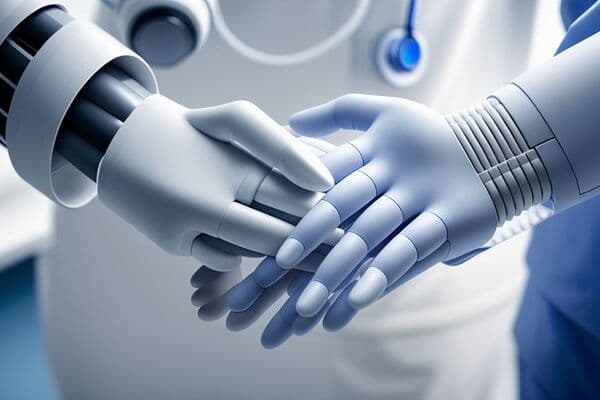 Abstract
This blog post delves into the evolving landscape of healthcare with the integration of artificial intelligence (AI). It explores the complex interplay between AI, medicolegal liability, and the potential impact on healthcare professionals. Traditional frameworks for assigning responsibility in medical errors are challenged as AI becomes a core component in clinical decision-making. The article discusses the need for a revamped medicolegal framework, ensuring responsible AI usage while maintaining healthcare provider accountability. Additionally, it addresses the promise of AI in reducing medical errors and enhancing healthcare access in remote areas. The balance between AI's potential and medicolegal challenges is central to this thought-provoking exploration of AI in healthcare.
In the ever-evolving landscape of healthcare, the integration of artificial intelligence (AI) is bringing about a significant shift in the way we approach patient care. With this transition comes a host of challenges, including medicolegal liability, the potential impact on the clinical skills of healthcare professionals, and the promise of reducing medical errors and expanding healthcare access.
AI's Role in Medicolegal Liability
Traditionally, when a patient suffers harm, both the hospital and attending physicians share responsibility, while medical device manufacturers often escape liability. However, as AI plays an increasingly pivotal role in clinical decision-making, it's clear that a new medicolegal framework is needed.
AI is progressing at an astonishing rate, yet it is not impervious to errors. These errors are often linked to the quality of input data. Ensuring optimal AI performance requires meticulous data curation. Moreover, AI systems continue to evolve and adapt even after deployment, presenting unique challenges when it comes to determining accountability for AI-related errors.
Consider the scenario where a physician modifies their decision based on AI guidance, and an error occurs. The question of liability arises. In such situations, accountability may shift to the AI or its developers if the system is at fault. However, the physician's exercise of reasonable judgment and adherence to established protocols also come into play. Conversely, in cases where AI advises against a particular course of action, and the physician proceeds, the liability leans more toward the physician. Balancing a physician's clinical judgment and AI recommendations is imperative.
One significant concern from the physician's point of view is the warning issued by AI developers regarding the possibility of errors. This disclosure can make physicians nervous about using AI, as failure to use it may lead to legal troubles. These factors need to be carefully addressed in the new medicolegal framework, particularly as smaller healthcare providers may not have the resources to engage in legal battles with large AI companies.
The Promise of AI in Healthcare
At the same time, medical errors are not unknown, and AI systems have the potential to reduce them. Implementing AI in healthcare makes sense when it can enhance patient safety and the quality of care. Additionally, AI can be a valuable asset in primary care, especially in remote and rural areas where access to healthcare can be limited.
AI systems can assist nurses and other healthcare professionals in solving many medical problems, even without the presence of a nearby physician. This can significantly improve healthcare access in rural and underprivileged areas, ensuring that more people receive the quality healthcare they deserve.
Complementary Use of AI and the Dilemma of Liability
Many experts recommend using AI in a complementary role for doctors. This implies that AI should confirm recommendations rather than explore possibilities. Such an approach may result in slower growth for AI systems. Conversely, if AI developers are held liable for errors, it may hinder the development of AI, particularly in fields like Deep Learning, where explainability is limited.
It's important to acknowledge that AI evaluation is evolving to the point where even developers cannot fully explain how AI systems make decisions. Therefore, it may be unfair to place complete blame on them for potential errors.
Conclusion: Finding the Balance
As we navigate the integration of AI into healthcare, the balancing act between harnessing its potential and addressing the medicolegal challenges remains pivotal. AI holds the promise of reducing medical errors, enhancing patient care, and expanding healthcare access to underserved areas. However, it also brings forth complex questions of liability and the preservation of clinical skills.
To make the most of AI in healthcare, it's imperative to adopt a collaborative approach. Healthcare professionals, AI developers, legal experts, and policymakers must work together to create a medicolegal framework that encourages responsible AI utilization while safeguarding the integrity and accountability of healthcare providers. AI can complement clinical skills, but it should never replace the expertise and judgment of healthcare professionals.
In the coming years, the healthcare landscape will continue to evolve, and AI will play a pivotal role in shaping the future of patient care. The key lies in finding the right balance—one that leverages the potential of AI to improve healthcare outcomes while upholding the principles of responsibility, patient-centered care, and the continuous growth of healthcare professionals.
---
This Unlock the Future of Healthcare Management! 🚀🏥🌟
Is managing your hospital, clinic, or lab becoming a daunting task? Experience the ease and efficiency of our cutting-edge Management Software through a personalized demo.