Building a Strong Online Presence for Your Medical Practice: A Step-by-Step Guide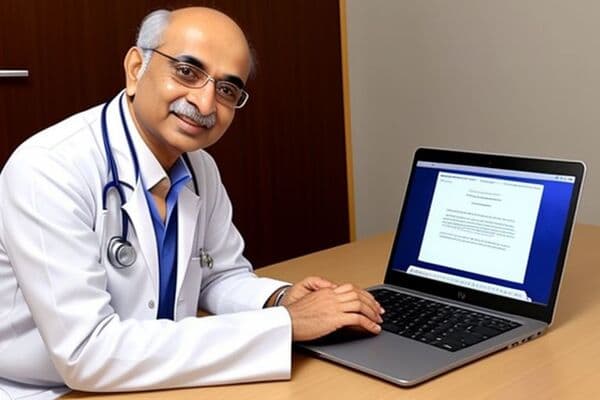 Abstract
In today's digital age, a strong online presence is essential for medical professionals and healthcare facilities. This article provides a comprehensive, step-by-step guide to navigate the complexities of establishing such a presence. It underscores the significance of Google in local healthcare services, emphasizes proactive online reputation management, and addresses regulatory challenges. It also explores the role of social media, blogging, and SEO-friendly websites while highlighting the importance of accurate, responsible online engagement. This guide encourages healthcare practitioners to adapt to the evolving digital landscape, delivering informative content to create a trustworthy online presence.
In today's digitally driven world, the online presence of medical professionals and healthcare facilities plays an increasingly pivotal role in patient engagement and practice success. With patients turning to the internet to seek healthcare advice and recommendations, the future of medical practice is undeniably intertwined with a strong online presence.
The Power of Google in Local Business
Google has become the go-to platform for patients searching for local healthcare services. The impact of Google's search results and reviews is evident, especially when unsatisfied patients take to the platform to express their grievances. This is a critical aspect, especially for healthcare facilities, where online reputation management often takes a back seat.
Satisfied patients are less likely to actively share their positive experiences compared to dissatisfied ones who leverage online platforms to voice their displeasure. Hence, it becomes imperative for doctors and healthcare facilities to pay extra attention to their online presence.
The Role of Proactive Online Reputation Management (ORM)
To ensure a strong online presence, healthcare professionals and facilities must proactively manage their online reputation (ORM). This involves closely monitoring online reviews, particularly on platforms like Google. When negative reviews surface, the immediate goal should be to address them promptly and constructively.
It's important to recognize that not all negative reviews are genuine expressions of patient dissatisfaction. Competitors with unethical intentions might attempt to tarnish a practice's reputation through false claims and negative feedback. In such cases, reaching out to the individual and attempting to resolve the issue can help mitigate potential damage.
Navigating Regulatory Challenges
Apart from online reviews, healthcare providers must also navigate regulatory challenges in their online presence. Regulatory bodies, such as the National Medical Commission (NMC), have imposed restrictions on medical professionals' advertising and online content.
When creating online content, particularly in the form of blogs or articles related to healthcare, it's essential to adhere to scientific principles and ethical guidelines. Failure to do so could result in penalties and harm the reputation of your practice. Furthermore, it's crucial to respect patient privacy and confidentiality when using case studies or examples in your content.
Social Media: Navigating Its Role in Your Medical Practice
In our journey to understand and master the art of building a robust online presence for your medical practice, let's explore the role of social media. While some may not be ardent fans of social media, considering it primarily as a platform for entertainment and sharing life's happy moments, it still holds potential, albeit with some caveats, for serious health-related matters.
The Entertainment vs. Healthcare Divide
It's true that social media platforms are often filled with posts about everyday life, vacations, celebrations, and trending topics. This lighter side of social media certainly has its place and serves as a valuable outlet for personal expression and connection.
However, when it comes to health-related issues, there is a need for caution and discernment. Sharing serious healthcare concerns, medical advice, or treatment plans on social media may not always be the best choice. Inaccurate or ill-informed posts can spread quickly and potentially lead to misunderstandings or even harm.
Finding a Niche in Healthcare
That said, some healthcare professionals have successfully carved out a niche for themselves on social media, particularly on platforms like Instagram and YouTube. They use these platforms to share insights into various health-related topics, from dermatology to cosmetology, providing valuable information to a broader audience.
When considering whether to use social media for your medical practice, it's essential to identify your goals and your target audience. If your aim is to educate and inform, there may be room for you to contribute to the conversation in a meaningful way. Just remember to:
1. Prioritize Accuracy Ensure that the information you share is evidence-based and accurate. Misinformation can have serious consequences.
2. Respect Patient Privacy: Never share patient information or case details without explicit consent. Patient confidentiality is paramount.
3. Engage Responsively: Be prepared to engage with comments and questions from your followers, providing helpful responses within your area of expertise.
4. Maintain a Professional Tone: Remember that even on social media, you represent your medical practice. Maintain professionalism in your posts and interactions.
5. Consider the Platform: Different social media platforms have distinct audiences and purposes. Choose the platform that aligns best with your goals and expertise.
Blogging: Your Path to a Strong Online Presence in Healthcare
In our quest to master the art of building a robust online presence for your medical practice, let's explore another avenue that can make a significant difference: blogging. Given the restrictions on advertisement imposed by the National Medical Commission (NMC), blogging on your healthcare website emerges as a promising choice.
The SEO-Friendly Healthcare Website
To embark on a successful blogging journey, it's crucial to have a well-structured and SEO-friendly website. This forms the foundation upon which you can create and share valuable content with your audience. A user-friendly, responsive website not only enhances your online presence but also improves the overall patient experience.
Local SEO: Navigating the Digital Neighborhood
In the digital landscape, local SEO has become a critical factor for medical professionals and healthcare facilities. Patients often search for healthcare services near their location, making it essential to optimize your online presence for local searches. Ensure that your website is optimized with relevant keywords and location-specific information to appear prominently in local search results.
The Art of Healthcare Blogging
Blogging is not just about creating content; it's about crafting informative, engaging, and relevant content that addresses the questions and concerns of your target audience. In the realm of healthcare, this means delving into topics that matter to your patients.
The Role of Keywords and SEO
In the world of healthcare blogging, keywords are your guiding stars. Patients turn to search engines like Google to find answers to their health-related questions. By identifying and incorporating relevant keywords into your blog posts, you can increase the visibility of your content. This, in turn, can attract more visitors to your website.
Staying Ahead with Continuous Updates
The digital landscape is ever-evolving, and search engines like Google continuously refine their algorithms. To maintain a strong online presence, it's essential to keep your website and blog content up-to-date. Regularly publishing fresh, relevant content not only keeps your audience engaged but also signals to search engines that your website is active and authoritative.
The Rise of Health-Related Chatbots
In the realm of healthcare, technology is advancing at a rapid pace. Health-related chatbots are becoming increasingly common, offering patients quick answers to their health queries. By staying informed about these advancements and potentially integrating chatbot features into your website, you can enhance the patient experience and further solidify your online presence.
Conclusion
Building a strong online presence for your medical practice is not only beneficial but increasingly necessary in the digital age. By proactively managing your online reputation, navigating regulatory challenges, and leveraging platforms like social media and blogging, you can connect with your audience, provide valuable information, and position your practice as a trusted source of healthcare expertise. Remember, the digital landscape is ever-evolving, so staying committed to delivering high-quality content and maintaining an active online presence is key to your practice's success.
---
This Unlock the Future of Healthcare Management! 🚀🏥🌟
Is managing your hospital, clinic, or lab becoming a daunting task? Experience the ease and efficiency of our cutting-edge Management Software through a personalized demo.