Streamlining Healthcare Appointment Slots Scheduling with UHI, Website, and AI Chatbots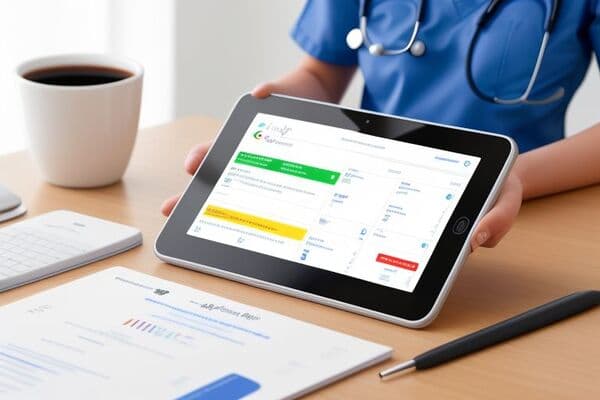 Abstract
In the ever-evolving landscape of healthcare, efficient appointment scheduling has become paramount. This blog delves into the world of healthcare appointment slots scheduling, examining how the integration of Universal Health ID (UHI), websites, and AI chatbots is revolutionizing the process. We explore how patients can seamlessly book appointments, thanks to UHI compatibility, and the convenience offered by healthcare provider websites and AI-driven chatbots. Furthermore, we shed light on the benefits of such integration for both healthcare providers and patients. Discover how these innovative technologies are reshaping the healthcare appointment scheduling landscape, making it more accessible, efficient, and patient-centric.
Introduction:
Healthcare scheduling can be a labyrinth of intricate processes, involving schedules, appointments, and slots. To make sense of it all, let's start by defining each of these components and unravel how they intertwine seamlessly with the help of an advanced Hospital Information Management System (HIMS).
Understanding the Components
Schedules:
In the realm of healthcare, schedules pertain to a crucial aspect, primarily controlled by doctors. Doctors create schedules that forecast their availability over a specific period, usually spanning one to three months. These schedules also detail any periods of non-availability, making it a repetitive but essential process. With the power of automation through HIMS, managing these schedules becomes efficient and error-free.
Appointments
An appointment represents a contractual agreement involving at least two parties, often a doctor and either another doctor or a patient. Sometimes, multiple participants are involved. Appointments can be proposed, confirmed, or canceled. They are the heart of healthcare scheduling, bringing together doctors and patients to provide and receive care.
Slots:
Slots are intricately linked to doctors' schedules and form the specific time slots within appointments. While a patient may have secured an appointment on a particular day, it's the slot that precisely specifies the time of the appointment. Aligning slots with doctors' schedules is crucial to ensure a smooth workflow.
Simplified Patient Experience
Booking Through UHI:
Within the HIMS with UHI compatibility of NHA, patients gain the ability to book appointments directly from any end-user application, including popular platforms like Paytm and others, as well as through the healthcare provider's website. This seamless integration simplifies the appointment process for patients, making it more accessible and convenient than ever before.
AI Chatbots for Seamless Scheduling:
Patients can also utilize the healthcare provider's website to schedule appointments, often initiating requests using AI chatbots integrated into the website. These chatbots leverage artificial intelligence to facilitate appointment scheduling by guiding patients through the process, checking doctor availability, and suggesting suitable time slots.
Efficient Management for Healthcare Providers
Streamlining Administrative Tasks:
From within the HIMS, healthcare providers can efficiently manage schedules, appointments, and slots. This streamlined approach reduces administrative burdens, minimizes scheduling conflicts, and optimizes resource allocation.
Proactive Patient Engagement:
Additionally, patients can be contacted through various means such as telephone or WhatsApp to confirm their attendance for proposed appointments, consultations, or procedures. This proactive approach significantly enhances patient compliance with their treatment plans and ultimately increases patient footfall. You can read more about this patient outreach from this article Enhancing Patient Engagement: Healthcare Appointment Confirmation Calls
Conclusion
Understanding these fundamental components and the potential of advanced HIMS with UHI integration, website-based bookings, and AI chatbot assistance is the key to optimizing healthcare scheduling and improving the patient experience. Whether you're a healthcare provider seeking efficiency or a patient looking for convenience, the future of healthcare scheduling is increasingly bright and patient-centric.
---
This Unlock the Future of Healthcare Management! 🚀🏥🌟
Is managing your hospital, clinic, or lab becoming a daunting task? Experience the ease and efficiency of our cutting-edge Management Software through a personalized demo.