Cloud-Based HIMS Benefits in Indian Healthcare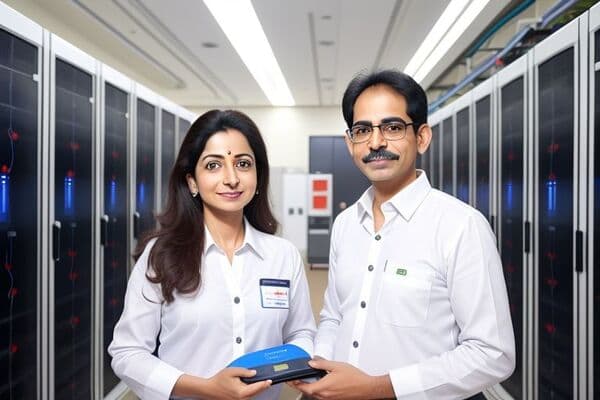 Abstract
Embracing Cloud-Based Health Information Management Systems (HIMS) is revolutionizing Indian healthcare. This article explores the transformative advantages of Cloud-Based HIMS, emphasizing the unique benefits in the Indian context. The integration with the Ayushman Bharat Digital Mission (ABDM) underscores the importance of interoperability across diverse healthcare systems. Nice HMS, a cloud-based solution, holds the prestigious ABDM triple milestone certification, ensuring rigorous testing for functionality and security. From enhanced data security and streamlined administrative tasks to cost-effectiveness and scalability, Cloud-Based HIMS emerges as a strategic imperative. As healthcare evolves, the adoption of cloud technology proves essential for a safer, efficient, and cost-effective future in Indian healthcare.
Introduction
Hospital Management Software (HIMS) stands as the backbone of modern healthcare, streamlining the storage and retrieval of patient information. As the healthcare landscape in India undergoes a transformation, the choice between on-premise servers and cloud-based solutions is more critical than ever. In this article, we will explore the transformative advantages of Cloud-Based Health Information Management Systems (HIMS), especially considering the unique requirements of the Ayushman Bharat Digital Mission (ABDM).
A. Definition and Key Features of Cloud-Based HIMS
Cloud-Based HIMS is a technological leap forward, revolutionizing how healthcare data is managed. In essence, it involves leveraging cloud computing for the storage, retrieval, and management of patient information. Key features include:
Multi-factor Authentication and Encryption: Ensuring advanced security measures.
Automatic Updates: Regular updates to address emerging threats.
Scalability: The ability to effortlessly scale to meet the growing needs of healthcare organizations.
B. Overview of Cloud Computing in Healthcare
Before delving into the specifics of Cloud-Based HIMS, let's understand the broader context of cloud computing in healthcare:
In recent years, cloud computing has emerged as a game-changer in the healthcare industry. Its ability to provide on-demand access to computing resources, coupled with robust security features, has transformed the way healthcare data is stored and accessed. This shift towards cloud technology sets the stage for the subsequent discussion on Cloud-Based HIMS.
C. Benefits of Cloud-Based HIMS in the Indian Context
Now, let's explore why Cloud-Based HIMS stands out as a transformative solution specifically in the Indian healthcare context:
1. Cost-Effectiveness:
Transitioning to cloud-based solutions, such as Nice HMS on Google or other leading platforms, offers a cost-effective alternative. This shift eliminates the need for recurring expenses associated with maintaining on-premise servers, AC rooms, and dedicated IT personnel.
2. Scalability and Flexibility:
Cloud-based solutions provide an agile infrastructure that seamlessly adapts to the evolving needs of healthcare organizations. Unlike traditional on-premise systems, this scalability doesn't demand significant IT investment, allowing for efficient adaptation to changing organizational requirements.
3. Enhanced Data Security:
Security is a paramount concern in healthcare. Cloud platforms prioritize this aspect, employing advanced measures like multi-factor authentication and encryption. Continuous monitoring and updates further fortify the security posture, ensuring the protection of sensitive healthcare data.
4. Accessibility and Interoperability:
Cloud-based HIMS align seamlessly with national initiatives like ABDM, emphasizing interoperability. The cloud allows for secure access to patient data from anywhere, fostering collaboration among different departments and supporting remote healthcare services.
5. Streamlined Administrative Tasks:
Administrative tasks are the backbone of healthcare operations, and cloud-based HIMS simplifies these processes. From appointment scheduling to remote access for functions like accounts management, administrative efficiency is greatly enhanced.
6. Cost Reduction:
The cost savings resulting from the transition to cloud-based solutions can be redirected towards patient care and technological advancements. This represents a significant shift in resource allocation, fostering innovation and improved patient outcomes.
Integration with ABDM Certification
Additionally, it's crucial to highlight the significance of ABDM, the flagship program of the National Health Authority (NHA), which emphasizes interoperability across hospitals using different software. Nice HMS, as a cloud-based solution, holds the prestigious ABDM triple milestone certification. This certification is a testament to the software's robustness, having undergone rigorous functional testing and security assessments by CertIn experts prescribed by NHA.
Conclusion
In the face of evolving cyber threats and the demand for seamless connectivity in healthcare, cloud-based HIMS emerges as a secure, efficient, and cost-effective solution. The benefits of enhanced security, data redundancy, scalability, accessibility, streamlined administrative tasks, and substantial cost reduction position cloud-based HIMS as a strategic imperative for healthcare providers in India in 2023. Embracing cloud technology not only enhances patient care and protects sensitive data but also positions healthcare organizations to thrive in the digital age. It's time to reassess the safety paradigm and recognize the transformative potential of cloud-based HIMS in shaping the future of healthcare in India.
---
This Unlock the Future of Healthcare Management! 🚀🏥🌟
Is managing your hospital, clinic, or lab becoming a daunting task? Experience the ease and efficiency of our cutting-edge Management Software through a personalized demo.