Earn Incentives with Nice HMS: Seamlessly Link Your Patient Records to ABDM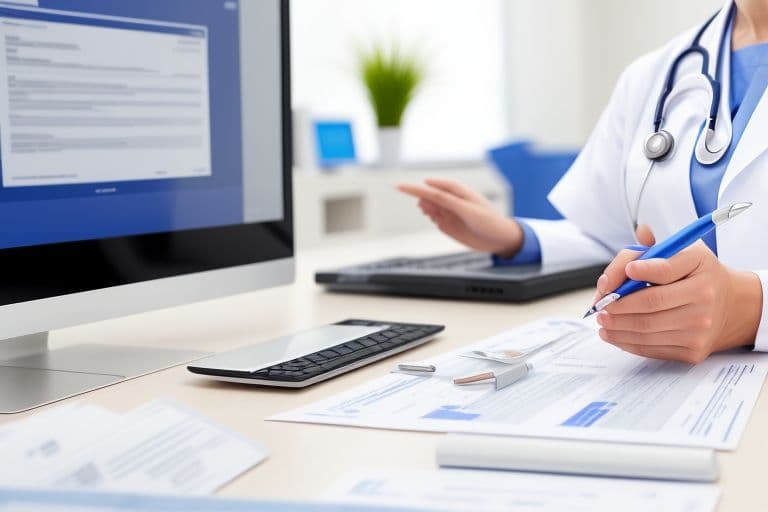 Abstract
Discover how Nice HMS, a Triple Milestone certified healthcare management software, revolutionizes patient record management in India's healthcare sector. With the National Health Authority's Digital Health Incentive Scheme (DHIS), healthcare facilities using Nice HMS can seamlessly link patient records to Ayushman Bharat Digital Mission (ABDM) and earn incentives. This article explains how Nice HMS simplifies record linkage, supports handwritten prescriptions, and empowers healthcare providers to comply with NMC regulations while reaping financial benefits. Join the movement, digitize patient records, and earn rewards with Nice HMS.
Introduction
In a revolutionary move to boost the adoption of ABDM (Ayushman Bharat Digital Mission) certified software, the National Health Authority (NHA) has introduced the DHIS (Digital Health Incentive Scheme). This groundbreaking scheme, aimed at healthcare facilities across India, offers lucrative incentives for using ABDM certified software to create digital patient records and seamlessly link them with ABDM. Nice HMS, a leading player in the healthcare software domain, proudly holds the prestigious Triple Milestone Certification from NHA's ABDM. This article highlights how healthcare facilities can benefit from using Nice HMS and participating in the DHIS scheme.
Nice HMS: Empowering Healthcare Facilities
Nice HMS, a trusted name in healthcare management software, has achieved the remarkable feat of obtaining NHA's ABDM Triple Milestone Certification. This certification isn't just a recognition of excellence; it's a gateway to numerous benefits for both existing and future users of Nice HMS. With the NHA's DHIS in motion, Nice HMS becomes a strategic partner that brings financial incentives and streamlined operations to healthcare facilities.
Seamless Patient Record Linkage
The heart of the DHIS scheme lies in the seamless linkage of patient records with ABDM. Every patient is required to have an Ayushman Bharat Health Account (ABHA) card, and with Nice HMS, the process becomes effortlessly simple. Instead of manually entering patient demographics, healthcare facilities can register patients using their ABHA cards. The magic happens behind the scenes – the patient's medical records are automatically linked to ABDM, setting the stage for incentives to flow.
Incentives Made Easy
The concept behind Nice HMS's integration with the DHIS scheme is straightforward: use Nice HMS to simplify patient record linkage, and earn incentives in the process. Healthcare facilities no longer need to invest extra effort or time. With every record linked, facilities stand to earn INR 20, a seemingly modest amount that can quickly accumulate into substantial earnings. For larger hospitals and healthcare providers, this incentive program could translate into thousands of rupees.
Doctor-Friendly Approach
Recognizing the diverse practices within the medical fraternity, Nice HMS goes the extra mile. Doctors who prefer handwritten prescriptions can still benefit from the DHIS scheme. By uploading handwritten prescriptions onto the Nice HMS platform, healthcare professionals contribute to the system while ensuring compliance with NMC (National Medical Commission) regulations. This feature not only aids in incentives but also maintains digital records, eliminating the challenges of physical storage.
A Unified Solution
Nice HMS emerges as a comprehensive solution that bridges the gap between digitalization, compliance, and financial rewards. By utilizing Nice HMS, healthcare facilities not only participate in NHA's mission to digitize patient records through ABDM but also earn incentives and streamline operations.
Conclusion
The NHA's DHIS scheme offers an unprecedented opportunity for healthcare facilities across India to embrace digitalization and earn valuable incentives. Nice HMS, with its ABDM Triple Milestone Certification, positions itself as a key enabler of this initiative. By simplifying patient record linkage and offering financial rewards, Nice HMS presents a win-win situation for healthcare providers. So, why wait? Join the movement, link your patient records with ABDM, and enjoy the benefits of Nice HMS – a technology that not only empowers but also rewards.
For more information about NHA's Ayushman Bharat Digital Mission and the DHIS scheme, visit ABDM DHIS
---
This Unlock the Future of Healthcare Management! 🚀🏥🌟
Is managing your hospital, clinic, or lab becoming a daunting task? Experience the ease and efficiency of our cutting-edge Management Software through a personalized demo.