Efficiency and Trust: How HIMS Transforms Hospital Billing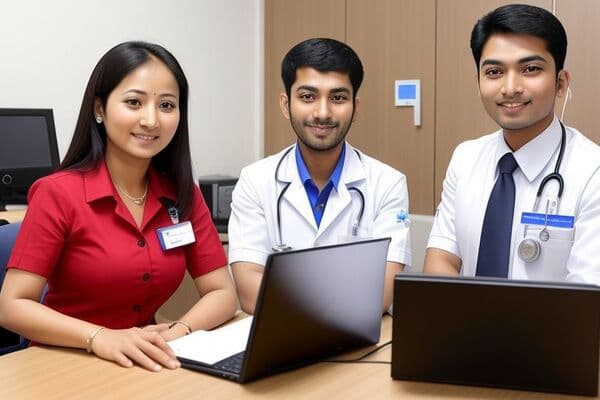 Abstract
In the ever-evolving landscape of healthcare, where efficiency and trust are paramount, the role of Hospital Information Management Systems (HIMS) in revolutionizing hospital billing cannot be understated. This blog post delves into the complexities of modern hospital billing, emphasizing the need for accuracy and transparency. It explores how HIMS applications, such as Nice HMS, are transforming the billing process. With a focus on efficiency and trust, we uncover the advantages of adopting HIMS in healthcare institutions. From improving transparency and reducing revenue loss to providing real-time data and enhancing patient trust, HIMS is the linchpin of modern hospital billing. Join us on this journey to streamline healthcare finances and build a foundation of trust with patients.
Introduction
In any healthcare facility, one of the most sensitive areas is the billing counter. It's a place where the patients' relatives often congregate, making inquiries, and sometimes even expressing their frustration. The smooth operation of a healthcare unit's billing counter and the competence of its staff are crucial. Implementing security measures at this point is equally important.
As we step into 2023, it's astonishing to note that some healthcare facilities still rely on manual or Excel-based billing systems. Such outdated practices can lead to various issues, including revenue loss and a loss of trust from patients and their families. When patients see that their bills are being generated by authoritative software, it instills trust in the hospital. Conversely, using manual methods can give the impression of manipulation, and that charges are not standardized. To build trust, we strongly urge healthcare providers to adopt Hospital Information Management Systems (HIMS) applications like Nice HMS.
Understanding Hospital Billing
Hospital billing is unlike billing in most other businesses. In healthcare, invoices are generated periodically, which can include collecting deposits, invoicing for lab tests or scans at various stages, and interim bills for extended hospital stays. Moreover, different parties may make payments for different items, such as those covered by insurance versus those not covered. Unlike other businesses where it's customary to balance accounts for invoices raised or grossly balance total customer dues, in healthcare, this approach appears unacceptable. This is because payments from patients or third-party administrators (TPAs) may vary significantly from one visit to another. Consideration must also be given to scenarios where a patient requires readmission even though their previous admission bill has not yet been closed, for various reasons. Therefore, balancing should be done for each visit or encounter, not per invoice or grossly to the patient.
What is HIMS?
While many are familiar with the term HIMS, a brief explanation is in order. Hospital Information Management System (HIMS) software deals with patient data, both medical and financial, in addition to hospital and doctor details, scheduling, and appointments. A robust and user-friendly HIMS is the backbone of any healthcare facility. The time and resources invested in implementing HIMS are always rewarding.
The Role of HIMS in Hospital Billing
The role of HIMS in hospital billing cannot be overstated. A role-access-based web solution that is integrated with government guidelines is the need of the hour. Always choose an ABDM-compatible HIMS like ours. We offer not only a robust billing package but also comprehensive accounting tools to manage dues from insurance companies, patients, and doctor payments. Furthermore, we provide a patient relationship management system to handle marketing and appointments. To learn more and request a demo, simply fill out the form below.
Key Features of HIMS for Billing
When considering HIMS for billing, be sure to check whether it's just billing software or if it includes accounting features for a more scientific approach to finances. Additionally, ensure it offers inventory management, visit-wise balance tracking, daily collection reports for cash and digital payments, doctor pay-per-service modules, and patient relationship management payments.
Benefits of Using HIMS in Hospital Billing
The advantages of using HIMS in hospital billing are numerous:
- It reduces chaos at the billing counter by expediting the process compared to manual or spreadsheet-based billing.
- It increases transparency for both patients and hospital management.
- It decreases revenue loss due to billing errors and manipulation by staff at the counter.
- Management Information System (MIS) reports help track payments and dues, reducing fraud.
- It improves the recovery rate from TPAs and patients thanks to real-time data.
Challenges and Considerations
One of the primary challenges in implementing HIMS is the resistance from middlemen within the healthcare system. Hospital staff may often resist change, which poses a significant challenge to HIMS implementation. Unless the top management strongly supports HIMS implementation, its usage may be limited, and its full benefits may remain unrealized.
Future Trends in Hospital Billing and HIMS
The Ayushman Bharat Digital Mission (ABDM) is launching Health Claim Exchange, a significant change in the Indian healthcare sector. Creating a single portal for claim submission reduces the burden on insurance departments and streamlines the claim settlement process. In India, insurance and government schemes play a significant role in hospital revenue. Adapting to these changing times is a wise move.
Conclusion
In today's healthcare landscape, where trust and transparency are paramount, revolutionizing hospital billing is not just a choice but a necessity. The billing counter, often the nerve center of healthcare facilities, needs to be efficient, accurate, and, most importantly, trustworthy.
Manual and spreadsheet-based billing systems, while they served their purpose in the past, are no longer adequate for the complexities of modern healthcare billing. Patients and their relatives deserve the peace of mind that comes with knowing their bills are being generated through a robust and authoritative software solution.
That's where Hospital Information Management Systems (HIMS) come into play. HIMS is not just another software; it's the linchpin of efficient and accurate billing in healthcare. It seamlessly integrates patient data, financial information, and administrative details, creating a unified system that streamlines billing processes.
By adopting HIMS, healthcare institutions can establish a foundation of trust with their patients. It eliminates the perception of manipulation and non-standardized charges, replacing it with a transparent and systematic billing process.
Call to Action
We invite healthcare providers to take the leap towards revolutionizing their billing practices. Our HIMS application, Nice HMS, is designed to meet the unique needs of healthcare institutions in 2023 and beyond.
Whether you're dealing with insurance claims, patient invoices, or managing doctor payments, our HIMS offers a user-friendly, role-access-based web solution that complies with government guidelines. Our all-in-one package includes not only a robust billing system but also comprehensive accounting tools, inventory management, and patient relationship management features.
Are you ready to experience the efficiency and accuracy of HIMS in your hospital billing? Don't hesitate; request a demo today by filling out the form below.
---
This Unlock the Future of Healthcare Management! 🚀🏥🌟
Is managing your hospital, clinic, or lab becoming a daunting task? Experience the ease and efficiency of our cutting-edge Management Software through a personalized demo.