Future Trends in HIMS and Their Impact on Medical Practice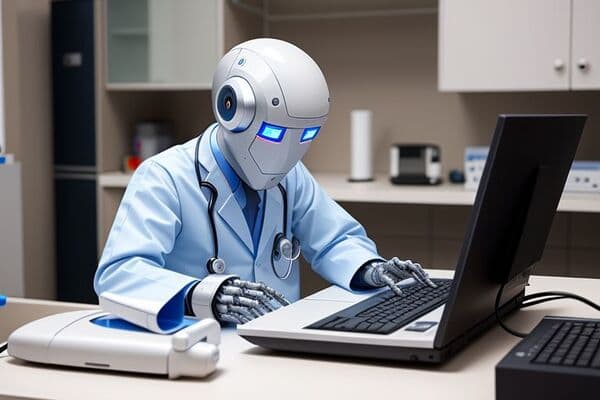 Abstract
Advancements in healthcare technology, driven by Hospital Information Management Systems (HIMS), are poised to reshape medical practice. Specialized Artificial Intelligence (AI), exemplified by Google's Med PaLM 2, promises data-driven diagnostics and care. Interoperability, a reality thanks to the Ayushman Bharat Digital Mission (ABDM), streamlines patient data exchange across HIMS, enhancing coordination and outcomes. The Internet of Things (IoT) and wearables, through the Universal Health Interface (UHI), yield valuable patient data for smarter healthcare delivery. Teleconsultation and telemedicine are seamlessly integrating into HIMS, expanding access. AI-driven precision medicine, data-based cost management, and virtual assistants further enrich the healthcare landscape. HIMS' future lies in a more efficient, patient-centric, and accessible healthcare system, driven by innovation.
Introduction
The relentless march of technology has left no corner of human existence untouched, and the field of healthcare is no exception. Recent technological trends have already begun reshaping our lives, and the true impact is still unfolding. We're standing on the tip of an iceberg, with the vast potential of these innovations yet to be fully realized.
In this era, where technology is evolving at an unprecedented pace, Artificial Intelligence (AI) stands out as a game-changer. Its transformative power has been exemplified by Chat GPT, a language model that has rapidly revolutionized our interactions with machines. Just recently, a heartwarming story emerged of a mother who used Chat GPT to diagnose her child's condition after 17 specialists failed to provide answers. This anecdote underscores the profound impact of AI on our lives.
AI Specialized for Medicine
The healthcare industry is witnessing the emergence of specialized AI technologies tailored for medical domains. Google's Med PaLM 2, for instance, is meticulously crafted to harness AI's analytical prowess within healthcare. It has achieved impressive scores of 82% and 70% in the rigorous USMLE and NEET PG entrance exams, offering a tantalizing glimpse of its boundless potential. The integration of such AI capabilities into Hospital Information Management Systems (HIMS) looms on the horizon, with Nice HMS having already forged a partnership with Google Cloud Platform to bring this vision to fruition.
Interoperability in Healthcare
Interoperability, once merely a buzzword, has now crystallized into reality within the Indian healthcare ecosystem, thanks to the Ayushman Bharat Digital Mission (ABDM). Patient data, domiciled within diverse Health Information Management Systems (HIMS) from various vendors, can now fluidly traverse from one healthcare facility to another. This newfound interconnectivity heralds a paradigm shift in care coordination and augments the enhancement of patient outcomes.
IoT and Wearable Devices Integration
The Internet of Things (IoT) and wearable devices are poised to make indelible marks in the realm of healthcare. Data generated by wearables will soon seamlessly integrate into Universal Health Interface (UHI) systems, endowing clinicians and AI systems with a veritable treasure trove of information. This data empowers them to offer actionable insights, thereby revolutionizing the delivery of healthcare.
Teleconsultation and Telemedicine
The landscape of healthcare is evolving further with the integration of teleconsultation and telemedicine, which are becoming increasingly useful and seamlessly integrated within HIMS through the Universal Health Interface (UHI). Patients can now access medical expertise remotely, eliminating geographical barriers and enhancing accessibility to healthcare services. This integration facilitates not only routine check-ups but also specialized consultations, making healthcare more convenient and efficient for both patients and healthcare providers.
Precision Medicine and AI
With the growing accessibility of patient data, the promise of precision medicine, buttressed by AI, is materializing. AI systems will proffer actionable treatment recommendations to healthcare consultants, harmoniously incorporated within HIMS. This heralds an era of more personalized and efficacious patient care.
Data-Driven Cost Management
Cost management in healthcare, hitherto manageable largely through data availability, stands on the cusp of a revolution. Data science's formidable power enables the tailoring of treatment plans even before patients embark on their therapeutic journeys. This not only confers benefits upon patients by illuminating cost structures but also equips policymakers, insurers, and governments with data steeped in scientific rigor to determine package rates.
AI-Powered Virtual Assistants
The integration of AI-powered virtual assistants with HIMS is looming large. These virtual aides will adeptly address common patient concerns and queries, thereby amplifying patient engagement and bolstering support.
Conclusion
The future of Hospital Information Management Systems is a thrilling saga, propelled by technological advances that hold the potential to reshape medical practice. AI, interoperability, IoT, data-driven cost management, teleconsultation, telemedicine, and virtual assistants are poised to revolutionize the healthcare landscape. As we eagerly embrace these trends, we envisage a healthcare system that is not only more efficient but also more personalized, patient-centric, and accessible than ever before. The tale of medical practice's future is being penned, and it is a narrative of technological innovation that heralds improved healthcare for all.
---
This Unlock the Future of Healthcare Management! 🚀🏥🌟
Is managing your hospital, clinic, or lab becoming a daunting task? Experience the ease and efficiency of our cutting-edge Management Software through a personalized demo.