Nice HMS: Revolutionizing Hospital Accounting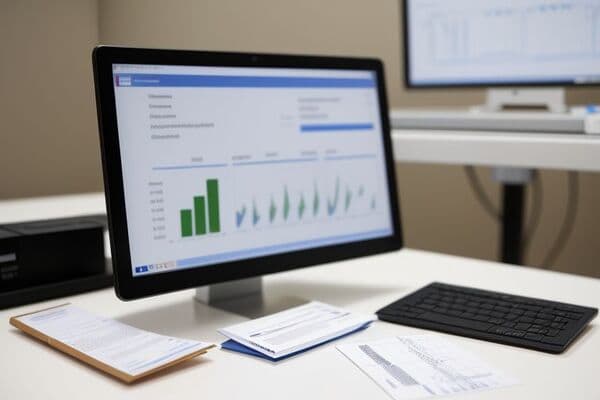 Abstract
Explore how Nice HMS is revolutionizing hospital accounting in India. Discover the vital distinction between billing and accounting software, and why choosing the right Hospital Information Management System (HIMS) matters. Nice HMS offers an integrated HIMS with accounting capabilities, following the dual-entry system, ensuring accuracy in financial reporting. This user-friendly software simplifies complex accounting processes, making it accessible to all staff members. Security is a top priority, with role-based access controls to prevent fraud. Nice HMS efficiently handles patient billing, tracks Third-Party Administrators and government schemes, and adapts to India's pay-per-service model. With a plethora of reports and payment tracking features, it's transforming financial management in healthcare institutions.
In the fast-paced world of healthcare, efficient management of hospital operations is paramount. Among the many facets of hospital administration, accounting plays a central role in ensuring financial stability and transparency. Hospital Accounting Software, such as Nice HMS, has emerged as a transformative solution for addressing the unique accounting needs of healthcare facilities in India. In this comprehensive blog post, we will explore the significance of selecting the right Hospital Information Management System (HIMS) for accounting and delve into the standout features that make Nice HMS a top choice.
Billing vs. Accounting: Understanding the Distinction
First and foremost, it's crucial to distinguish between billing software and accounting software. Billing software primarily focuses on generating invoices and managing payments, whereas accounting software adheres to the principles of accounting, including the dual-entry system. Accounting is a precise science with a robust foundation that guarantees accurate financial reporting. Most off-the-shelf accounting packages, such as Tally, may not cater to the specific demands of hospitals, especially in the bustling reception areas.
The Role of Accounting in HIMS
When selecting a HIMS, it's imperative to choose one that not only handles billing but also has a solid accounting foundation. Hospitals require a wide array of reports, which can be effortlessly generated with accounting principles as the cornerstone. This is where Nice HMS truly shines; it offers an integrated HIMS with accounting capabilities, following the dual-entry accounting system.
Simplified Accounting for Hospital Staff
Nice HMS distinguishes itself from other hospital accounting software solutions by implementing a dual-entry system, which involves debit and credit entries. The beauty of Nice HMS lies in its simplicity—your staff need not be accounting experts. The software streamlines complex accounting processes for ease of use and understanding.
Role-Based Access and Fraud Prevention
Security is a top priority in healthcare operations. In India, where cash transactions are prevalent, Nice HMS takes stringent measures to ensure accountability and prevent potential fraud. Cashbook access is strictly limited to assigned users, offering peace of mind in financial management.
Streamlining Hospital Finances
Nice HMS goes beyond accounting; it streamlines various financial aspects of hospital management. It efficiently handles patient billing, including the creation of invoices and credit notes, as well as the management of payments and refunds. These vouchers serve as the backbone of hospital accounting, providing a clear and accurate record of financial transactions.
Efficient Tracking of TPAs and Government Schemes
As Third-Party Administrators (TPAs) and government healthcare schemes become more prevalent, hospitals must efficiently manage these accounts. Nice HMS simplifies this task by making TPAs and schemes easily traceable through Management Information System (MIS) reports, offering real-time insights into financial situations.
Adapting to India's Pay-Per-Service Model
Many Indian hospitals operate on a pay-per-service model. Nice HMS offers MIS reports to effectively track this model. Additionally, it allows for the designation of percentages for item charges shared with consultants, ensuring fair compensation. These charges only appear on MIS reports once patient dues for that visit are settled.
A Plethora of Reports and Payment Tracking
Beyond the features discussed, Nice HMS provides numerous other reports, including daily collection reports, patient-wise collection reports, and item-wise revenue generation reports. The software also enables monitoring of digital payments, such as Google Pay and Phone Pay, while providing insights into each user's cash book balance and facilitating the processing of contra vouchers in case of bank deposits.
Conclusion
Selecting the right hospital accounting software is pivotal for healthcare units in India. Nice HMS not only simplifies the intricate world of accounting but also seamlessly integrates with HIMS, offering a holistic solution for hospitals. With its dual-entry system, role-based access control, and extensive reporting capabilities, Nice HMS is revolutionizing hospital accounting in India. It ensures financial efficiency, transparency, and accountability in an ever-evolving healthcare landscape, making it an indispensable tool for healthcare administrators seeking to streamline their operations.
---
This Unlock the Future of Healthcare Management! 🚀🏥🌟
Is managing your hospital, clinic, or lab becoming a daunting task? Experience the ease and efficiency of our cutting-edge Management Software through a personalized demo.