Revolutionizing Hospital Management: Streamlining TPA Accounting with ABDM Triple Milestone Certified Nice HMS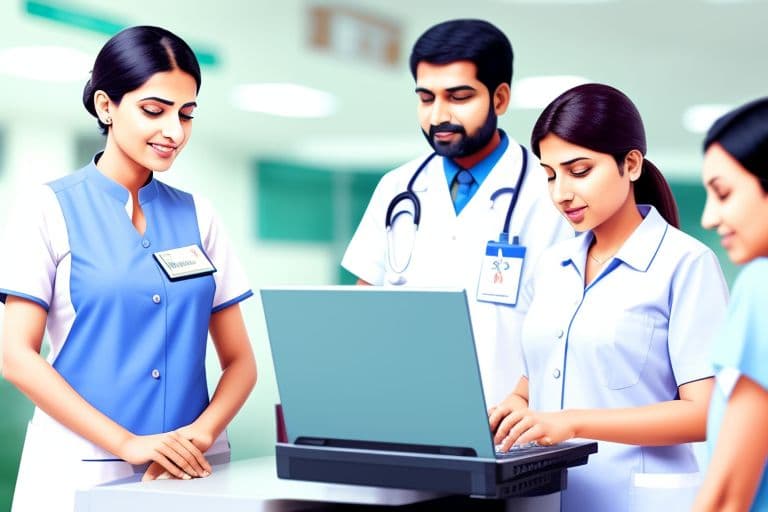 Abstract
In the realm of healthcare management, the challenges surrounding Third Party Administrators (TPA) and insurance-related processes in Indian hospitals have long been a hurdle. The absence of an integrated system often results in delayed payments, inaccuracies in claims, and an inability to effectively monitor dues. This blog post highlights how ABDM Triple Milestone Certified Nice HMS, a revolutionary Hospital Information Management System (HIMS), addresses these issues with its innovative TPA accounting module. The post underscores the manual complexities that hospitals encounter while managing TPAs, leading to financial setbacks and strained relationships. ABDM Triple Milestone Certified Nice HMS emerges as a game-changer with its TPA accounting module, streamlining the entire process. The system allows for seamless billing configuration, real-time dues tracking, and efficient claims processing. The integrated Management Information System (MIS) and reporting tools provide strategic insights for informed decision-making. Notably, Nice HMS stands apart from conventional HIMS by its dedication to innovation, evident through its TPA module. Furthermore, its ABDM compliance and upcoming integration with the Health Claim Exchange (HCX) API showcase its commitment to advancing healthcare management. In an era that demands efficiency and transparency, ABDM Triple Milestone Certified Nice HMS redefines hospital management by simplifying TPA processes and propelling healthcare facilities into a new era of seamless operations.
In the rapidly evolving landscape of healthcare, efficient management of patient records, billing, and insurance claims is paramount. It's no secret that many hospitals in India face significant challenges when it comes to handling Third Party Administrators (TPA) and insurance-related processes. These hurdles often lead to delayed payments, errors in claims, and the inability to accurately track and manage dues. This is where our cutting-edge solution, ABDM Triple Milestone Certified Nice HMS, shines through with its innovative TPA accounting module.
The TPA Conundrum: Manual Hassles and Missed Opportunities
For far too long, hospitals across India have been grappling with the manual and cumbersome task of handling TPA accounts. Whether it's insurance claims or government-funded cashless admission schemes, the lack of an integrated system has often resulted in administrative chaos. Hospitals find themselves struggling to keep track of payments, leading to substantial financial losses. When TPA departments fail to maintain a clear overview of cashless admissions, the consequences can be dire – hospitals miss out on rightful payments, leading to strained relationships and financial instability.
Nice HMS: Pioneering TPA Management and Beyond
Enter ABDM Triple Milestone Certified Nice HMS – a game-changer in hospital management. One of the standout features of Nice HMS is its comprehensive TPA accounting module, designed to seamlessly integrate and streamline the entire process. Hospitals can now bid farewell to the days of convoluted account-keeping and tedious claim processing. With Nice HMS, the TPA module brings clarity and efficiency to this critical aspect of healthcare management.
Key Highlights of Nice HMS TPA Accounting Module:
Simplified Billing with Payor Configuration: Nice HMS empowers hospitals to set the payor – be it an insurance company or TPA – right at the time of billing or patient admission. This pivotal step ensures that all financial transactions and claims are linked accurately to the relevant payor. The impact is immediate: the hospital's Management Information System (MIS) and debtor reports become reliable sources of real-time information.
Real-time Dues Tracking and Claims Processing: The TPA module seamlessly tracks dues and claims, removing any ambiguity in the process. Hospital administrators can rest easy knowing that each outstanding debt is associated with the appropriate TPA or insurance entity. When funds are transferred to the hospital, either through bank transfers or other methods, Nice HMS's intuitive interface simplifies the process of closing dues. Every transaction is effortlessly matched to the patient's visit, resulting in efficient account reconciliation.
Strategic Insights through MIS and Reporting: The integrated nature of Nice HMS extends beyond the TPA module. The Management Information System and reporting tools enable hospital owners and management teams to gain valuable insights into their financial health. This visibility is crucial for making informed decisions, predicting revenue streams, and effectively managing resources.
Nice HMS: An Industry Trailblazer
What sets ABDM Triple Milestone Certified Nice HMS apart is its dedication to innovation and its commitment to resolving real-world challenges in hospital management. While many Hospital Information Management Systems (HIMS) in India struggle to address TPA-related complexities, Nice HMS steps up to the plate with its user-friendly, integrated, and forward-thinking approach.
Additionally, as a testament to our relentless pursuit of excellence, Nice HMS is fully ABDM compliant and will soon integrate HCX (Health Claim Exchange) API. This exciting development will further enhance the efficiency of insurance claim processing, ensuring that hospitals are at the forefront of seamless healthcare management.
In a time where healthcare demands efficiency, accuracy, and transparency, ABDM Triple Milestone Certified Nice HMS stands as a beacon of progress. With its revolutionary TPA accounting module and a commitment to constant innovation, Nice HMS is transforming hospital management, one step at a time. Say goodbye to TPA-related woes and welcome a new era of streamlined operations with Nice HMS.
Are you ready to join the evolution? Embrace Nice HMS today and witness the transformation of your hospital's financial landscape.
---
This Unlock the Future of Healthcare Management! 🚀🏥🌟
Is managing your hospital, clinic, or lab becoming a daunting task? Experience the ease and efficiency of our cutting-edge Management Software through a personalized demo.