Streamlining Administrative Tasks and Healthcare Facility Management with HIMS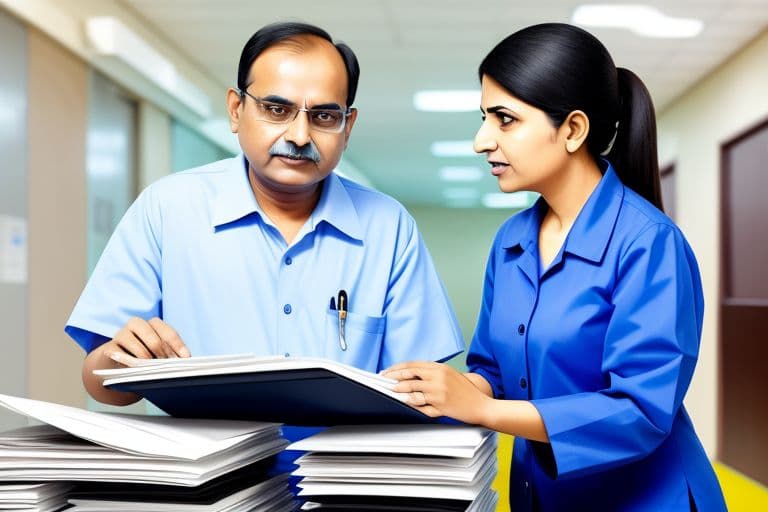 Abstract
Explore the transformative power of Healthcare Management Software (HIMS), specifically web-based solutions like Nice HMS, in revolutionizing administrative tasks within healthcare facilities. This blog delves into the multitude of benefits that come with adopting HIMS, focusing on its ability to streamline administrative processes and overcome resistance to change. From patient billing and consultant payments to patient registration and lab reporting, discover how HIMS simplifies healthcare management. Join us in understanding how technology and proactive engagement reshape the healthcare landscape for greater efficiency and patient care.
In today's dynamic healthcare landscape, where efficiency and accuracy are paramount, the role of technology cannot be overstated. Healthcare Management Software (HIMS), especially web-based applications like Nice HMS, have emerged as powerful tools that revolutionize the way administrative tasks are handled within healthcare facilities. In this blog post, we will explore the myriad benefits of adopting HIMS, focusing on its ability to streamline administrative processes and address the challenge of resistance to change.
Understanding HIMS and Its Administrative Advantages
Dealing with manual processes and workflows within healthcare administration often leads to reluctance among hospital staff to embrace change. Overcoming this resistance poses a significant challenge. However, with proactive involvement from administrators during the initial stages, the implementation of HIMS can effectively redefine workflows and processes for the better.
Defining Workflow and Process in Simple Terms
To put it simply, a workflow consists of repetitive activities aimed at achieving a specific task, while a process involves repetitive activities that work together to achieve a broader goal. In the context of healthcare administration, both workflow and process play critical roles in delivering efficient patient care.
1. Patient Billing and Accounting: Ensuring Financial Stability
One of the most intricate and crucial concerns for administrators is patient billing. Inaccuracies or mismanagement in this area can lead to chaos and even threaten the existence of healthcare setups. HIMS like Nice HMS, grounded in accounting principles, offer indispensable support in managing patient billing. This is the foremost reason for choosing HIMS across hospitals, clinics, and laboratories. Relying on manual billing is no longer viable, given the time constraints faced by medical professionals. While a learning curve may be present initially, the benefits far outweigh the initial adjustments.
2. Consultant Payments: Navigating Complexity with Ease
Managing payments for consultant services is often intricate. Keeping track of patient payments, discounts, and pending payments from third-party payers requires meticulous attention to detail. Nice HMS provides a specialized module that simplifies this process, offering transparency and efficiency in consultant payments.
3. Patient Registration and Appointments: A Smooth Experience
Manual patient registration and appointment scheduling can be error-prone and time-consuming. With innovations like the National Health Authority's ABHA-based registration, facilitated by Nice HMS, the registration process becomes streamlined for hospitals, clinics, and labs. This modern approach not only enhances efficiency but also aligns with industry norms.
4. Tracking TPA and Government Scheme Dues: Simplified Financial Management
The delayed nature of payments from Third Party Administrators (TPA) and government schemes can disrupt financial management. HIMS, particularly when integrated with the National Health Authority's Healthcare eXchange (HCX), offers comprehensive solutions to this challenge.
5. EMR and Lab Reporting: Enhancing Patient Care
Robust Electronic Medical Records (EMR) backed by the Ayushman Bharat digital scheme (ABDM) significantly improve patient care quality. Additionally, lab reporting features in HIMS, such as delivering reports via SMS or WhatsApp, ease patient interactions and teleconsultations.
In conclusion, the implementation of HIMS, exemplified by solutions like Nice HMS, holds the key to simplifying administrative tasks in the healthcare sector. By embracing technology and encouraging proactive participation, healthcare facilities can not only overcome resistance to change but also elevate their efficiency and patient care standards to new heights.
---
This Unlock the Future of Healthcare Management! 🚀🏥🌟
Is managing your hospital, clinic, or lab becoming a daunting task? Experience the ease and efficiency of our cutting-edge Management Software through a personalized demo.