Telemedicine Revolution: Empowering Indian Healthcare with Guidelines and Innovation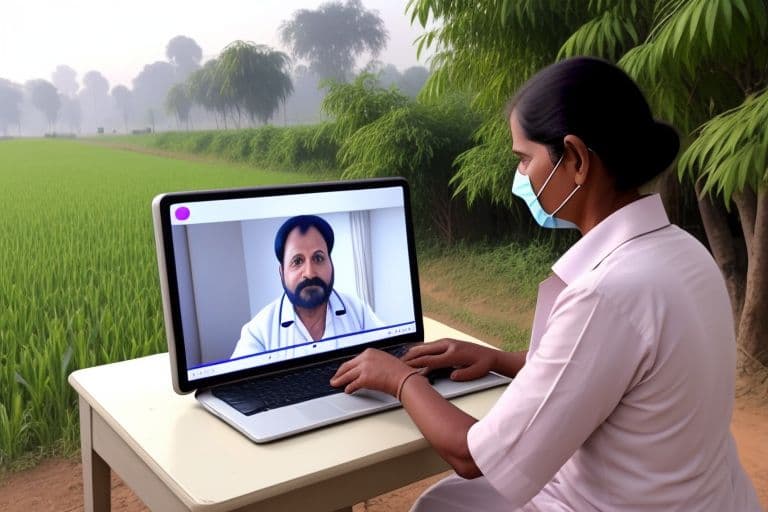 Abstract
In India, the advent of telemedicine has transformed healthcare by reducing patient travel costs and providing critical support. This post explores the growth and significance of telemedicine, focusing on India's 2020 guidelines for regulation. These guidelines cover vital aspects like physician-patient relationships, liability, informed consent, communication modes, and consultation types. The article underscores how telemedicine is reshaping Indian healthcare, breaking geographical barriers, and improving access to quality services.
Title: Telemedicine Indian Guidelines
Introduction
India's vast and diverse population presents a unique challenge in ensuring that healthcare services are readily available across the length and breadth of the country. With the emergence of telemedicine, we have witnessed a transformative shift in healthcare delivery, reducing patient travel costs and providing critical support in various scenarios, including follow-up checkups and the management of contagious diseases. Moreover, in times of disaster, telemedicine can be a true lifesaver by connecting patients with expert medical services. In this blog post, we will explore the growth and significance of telemedicine in India.
The Evolution of Telemedicine in India
As of 2018, the practice of telemedicine in India was surrounded by ambiguity, with the Bombay High Court highlighting the absence of clear guidelines. However, in 2020, the Government of India took a significant step by introducing comprehensive guidelines for the practice of telemedicine in the country. These guidelines aimed to enhance the efficiency and outcomes of the healthcare system, with a particular focus on extending telemedicine services to Health and Wellness Centers at the grassroots level. This allows mid-level healthcare providers to connect patients with doctors through technology platforms, ensuring timely and optimal care.
Key Aspects of Indian Telemedicine Guidelines
The Indian Telemedicine Guidelines cover a wide range of critical aspects, ensuring the responsible and effective implementation of telemedicine services. Some of the key areas addressed include:
1. Physician-Patient Relationship: The guidelines define the parameters of the relationship between healthcare providers and patients in a telemedicine context.
2. Liability and Negligence: Clear guidance on issues of liability and negligence to protect both patients and healthcare professionals.
3. Evaluation, Management, and Treatment: Guidelines for evaluating, managing, and treating patients through telemedicine.
4. Informed Consent: Ensuring that patients provide informed consent before initiating telemedicine consultations.
5. Continuity of Care: Ensuring the continuity of care between telemedicine consultations and in-person visits, if necessary.
6. Referrals for Emergency Services: Providing guidelines on referring patients to emergency services when required.
7. Medical Records and Privacy: Ensuring the privacy and security of patient records and information exchange.
8. Prescribing: Guidelines for healthcare providers when prescribing medications or treatment plans through telemedicine.
9. Reimbursement: Addressing issues related to reimbursement for telemedicine services.
10. Health Education and Counseling: Promoting health education and counseling through telemedicine.
Defining Telemedicine and Telehealth
To provide a clear understanding, let's define telemedicine and telehealth:
Telemedicine is the delivery of healthcare services, especially when distance is a critical factor, using information and communications technologies. It encompasses diagnosis, treatment, prevention, research, and education.
Telehealth is a broader concept that includes not only medical care but also healthcare-related services, education, health information services, and self-care delivered via telecommunications and digital communication technologies.
Modes of Communication in Telemedicine
Telemedicine consultations can occur through various modes of communication, including audio, video, text-based chat, email, and fax. This flexibility ensures that healthcare services are accessible to a wide range of patients and providers.
Telemedicine Consultations: Who, When, and How?
Telemedicine consultations can involve different parties, including patients, caregivers, doctors, and health workers. The decision to opt for telemedicine or in-person consultation depends on the doctor's assessment of the patient's condition. In emergencies, in-person interactions with a Registered Medical Practitioner (RMP) are recommended.
Furthermore, telemedicine consultations should not be anonymous, and both the patient and Doctor must know each other's identities. Patient verification is crucial, including confirming the patient's identity through name, age, gender, phone number, and email.
Prescriptions issued during telemedicine consultations should take into account the patient's age and should be issued only after confirming the recipient's age.
Patient consent is a fundamental aspect of telemedicine consultations, with different types of consent (implied or explicit) required in various situations. Implied consent may suffice when a patient initiates the consultation, while explicit consent is necessary when a health worker, RMP, or caregiver initiates the consultation.
Types of consultations in telemedicine include first consultations (for patients' initial healthcare needs), follow-up consultations (within six months of a previous consultation for the same illness only), and physical examinations when deemed critical.
For detailed information on Indian Telemedicine Guidelines, you can refer to the official document provided by the Ministry of Health and Family Welfare, Government of India: Indian Telemedicine Guidelines.
Conclusion
Telemedicine is rapidly transforming healthcare in India, breaking down geographical barriers and increasing access to quality healthcare services. The Indian Telemedicine Guidelines provide a robust framework for its responsible and effective use, ensuring patient safety, privacy, and the highest standards of care. As telemedicine continues to grow, it promises to play a pivotal role in advancing the health and wellness of individuals and communities across the nation.
---
This Unlock the Future of Healthcare Management! 🚀🏥🌟
Is managing your hospital, clinic, or lab becoming a daunting task? Experience the ease and efficiency of our cutting-edge Management Software through a personalized demo.