The Changing Landscape of Telemedicine and Remote Care in India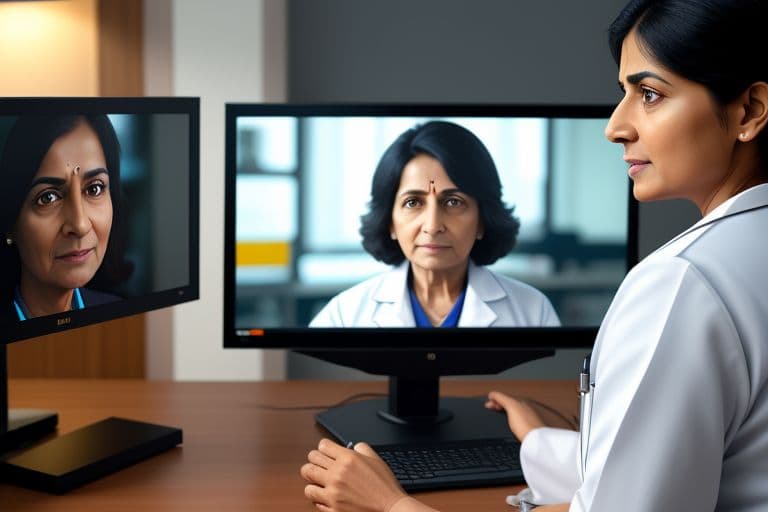 Abstract
Delve into the transformative landscape of telemedicine in India, empowered by the Universal Health Interface (UHI) and Nice HMS, ushering in accessibility for all and enabling group consultations and expert guidance in heart care and tumor board discussions. Explore the future of healthcare accessibility
Introduction
Telemedicine, a concept that has been in existence for over a decade, found its true relevance in India during the COVID-19 pandemic when healthcare services needed to adapt rapidly to the new normal. However, while its demand surged during that critical period, it has since experienced a slight decline. But this decline is merely temporary, and telemedicine is set to become an integral part of India's healthcare ecosystem, extending its reach far beyond the privileged and educated classes to reach even the remote rural areas where it is needed the most.
The Telemedicine Revolution
The transformation of telemedicine in India is on the horizon, and it promises to be a game-changer in the healthcare sector. One significant development that underscores this change is the launch of the Universal Health Interface (UHI) by the National Health Authority (NHA). This innovative approach aims to break the silos currently present in the telemedicine landscape.
Breaking Down Silos
The existing telemedicine setup in India largely operates in silos, with patients using a single vendor or platform for consultations. The introduction of UHI is set to change this paradigm by offering a more democratic and vendor-neutral approach to telemedicine. Patients will have the freedom to connect with healthcare providers across various platforms seamlessly. For example, a patient using an app from Company ABC can easily consult with doctors or access services from Companies XYZ or YMG. This shift marks a dramatic departure from the status quo and is expected to reshape the telemedicine landscape in India.
The Role of Nice HMS
Nice HMS, a web application certified with HIMS ABDM triple milestones, is gearing up to play a pivotal role in this transformative journey from the healthcare provider's perspective. As telemedicine becomes more universal and accessible, platforms like Nice HMS will enable healthcare providers to reach a broader audience and deliver quality healthcare services efficiently.
Empowering Rural India
One of the most significant advantages of democratizing telemedicine and breaking down the existing silos is the potential it holds for rural India. Remote and underserved areas often struggle to access healthcare services, making them more vulnerable to health issues. With the widespread adoption of telemedicine, rural communities can benefit from remote consultations, follow-up appointments, and sharing medical reports with consultants and healthcare teams. This is particularly critical in cases like heart care treatment and discussions facilitated by the concept of Group Consultation through UHI, a feature integral to UHI's offerings, where expert guidance and collaborative decision-making are essential.
Conclusion
The approach to telemedicine and remote care in India is undergoing a significant transformation. The introduction of the Universal Health Interface (UHI) by the National Health Authority (NHA) is poised to break down silos and democratize access to healthcare services. Nice HMS and similar platforms are ready to adapt to this change and empower healthcare providers to reach a more extensive audience.
As telemedicine becomes more accessible, it will not only benefit the urban elite but also extend its reach to remote rural patients who need it the most. The democratization of telemedicine in India is not just a vision; it's a reality on the horizon, promising a healthier and more connected future for all, with the added value of group consultations and expert guidance through UHI.
---
This Unlock the Future of Healthcare Management! 🚀🏥🌟
Is managing your hospital, clinic, or lab becoming a daunting task? Experience the ease and efficiency of our cutting-edge Management Software through a personalized demo.