Using Research Methodology to Reduce Hospital Costs Effectively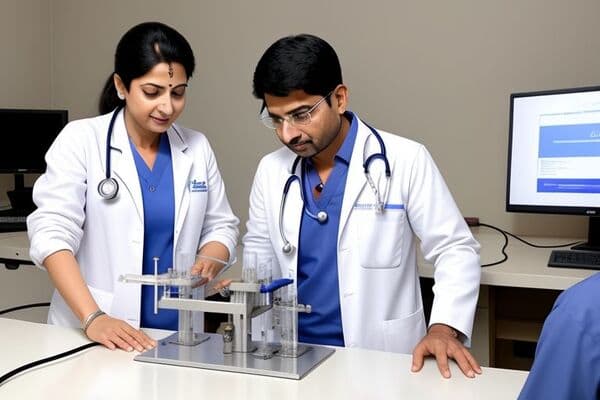 Abstract
In healthcare, especially within smaller and mid-sized hospitals, the challenge of delivering top-quality care within tight budgets is a constant. Research is often associated with larger institutions, but this blog explores a practical case where research methodology significantly reduced costs. The challenge lay in minimizing wastage of Arterial Blood Gas (ABG) kits, which were costly and had a short shelf life. By conducting a comparative study between ABG machines and standard biochemical machines, we established the reliability of ABG machines for Sodium (Na) and Potassium (K) measurements. This breakthrough not only curtailed wastage but also reduced costs substantially, showcasing the potential of research in optimizing healthcare functionality and cost control in smaller healthcare facilities.
Introduction:
In the world of healthcare, particularly within smaller and mid-sized hospitals, the perpetual challenge of providing top-notch care while adhering to tight budgets is a constant struggle. Research endeavors often appear better suited for larger public institutions and medical colleges, thanks to their substantial financial resources and research expertise. However, this blog post will unveil a tangible use case where research methodology was put into practice to markedly diminish resource wastage and, consequently, reduce costs in the realm of hospital management.
The Challenge: Mitigating Wastage in Laboratory Testing
At our hospital, we encountered a unique challenge within our laboratory testing processes. In our laboratory, precision and accuracy were non-negotiable for diagnostic reports. We utilized Arterial Blood Gas (ABG) machine kits for specific tests, each with a shelf life of merely 30 days. These kits allowed us to conduct roughly 300 tests, meaning we ideally needed to process 10 samples daily to avoid wastage. However, the actual daily load for Serum Electrolytes (Sr electrolytes) averaged around 30 samples, leading to substantial wastage of ABG kits.
The monthly squandering of ABG kits translated to nearly INR 15,000 for our hospital. The question loomed large: could we optimize the utilization of ABG kits and curtail this significant cost without compromising the quality of diagnostic reports?
The Research Approach: Proving Feasibility
When the notion of utilizing ABG's Sodium (Na) and Potassium (K) values for Sr electrolytes testing was proposed, some consultants raised concerns about the reliability of ABG machine readings for Na and K reports. An extensive online search yielded conflicting opinions, both advocating for and against the use of ABG machines for these electrolyte measurements. We found ourselves at a crossroads, torn between whether to proceed or abandon the idea.
The logical next step was to conduct our own research to definitively address these doubts. We devised a study protocol: all samples designated for Sr electrolytes testing were subjected to analysis using both the ABG machine (venous sample) and a biochemical standard machine. This comparative testing spanned one month, with the objective of establishing the non-inferiority of ABG machine results in comparison to the biochemical machine.
The study outcomes were astonishing; there existed an inconsequential variance between the results obtained from the two machines. While our study design may not have adhered to double-blind standards, the pivotal takeaway was that using the same blood sample for both tests produced parallel results. Regrettably, due to privacy and confidentiality constraints, we cannot provide specific data. Nonetheless, the results unequivocally validated the viability of employing ABG machine data for Sr electrolytes testing.
Conclusion: Optimizing Healthcare Costs through Research
This case study serves as a testament to the potential of research methodology in healthcare management, even within the constraints of smaller and mid-sized hospitals. Through conducting a practical study and affirming the reliability of ABG machines for Na and K reports, we succeeded not only in reducing resource wastage but also in significantly slashing costs without compromising the quality of patient care.
It underscores the significance of embracing research as an invaluable tool for optimizing healthcare functionality and cost control. While initial skepticism concerning the relevance of research in smaller healthcare facilities may persist, practical examples like this underscore that innovative thinking and research methodology can indeed make a profound difference in achieving cost-effective and high-quality healthcare management. This success story encourages us to continue exploring similar opportunities to enhance healthcare delivery, even in the face of budgetary constraints.
---
This Unlock the Future of Healthcare Management! 🚀🏥🌟
Is managing your hospital, clinic, or lab becoming a daunting task? Experience the ease and efficiency of our cutting-edge Management Software through a personalized demo.