Benefits of OPD Registration through Nice HMS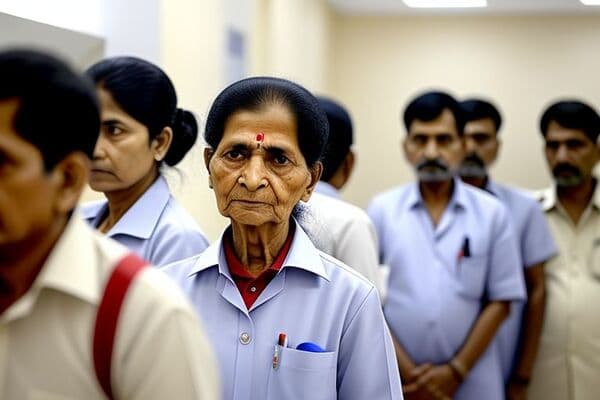 Abstract
Discover the transformative power of the Nice HMS (Hospital Information Management System) for OPD registration. This robust system tackles the challenge of accurate patient information capture, ensuring seamless healthcare processes. With NHA and ABDM certifications, data accuracy is assured. Nice HMS offers multiple registration modes, from manual entry to cutting-edge solutions like ABHA cards and QR codes, empowering both patients and healthcare providers. The HFR-generated QR code simplifies self-registration, reducing wait times and errors. This comprehensive, economically priced HIMS encompasses EHR, accounting, and lab modules, making efficient patient-centric healthcare a reality. Embrace the future of healthcare with Nice HMS.
Introduction
The waiting room - a place that often tests the patience of even the most composed individuals. Patients waiting in this room tend to scrutinize every aspect of the clinic or hospital, and the frustration grows, especially when they are in line for patient registration. This process can be particularly challenging for those from rural areas.
But fear not, for there's a solution - HIMS (Hospital Information Management System). It's a game-changer that can revolutionize patient registration and greatly improve the overall patient experience. In this article, we will delve into the advantages of OPD (Outpatient Department) registration through the Nice HMS, with a focus on how it simplifies the patient registration process.
Accurate Patient Information
Patient registration often faces the challenge of capturing precise patient details such as their name, age, and gender. Patients may have multiple names, and their official name on insurance or government policies may differ from their commonly used one. This discrepancy can lead to confusion during cashless admissions, reimbursements, and, more importantly, medical-legal matters.
HIMS solutions like the Nice HMS offer an efficient remedy to this problem. With certification from the National Health Authority (NHA) and ABDM (Ayushman Bharat Digital Mission), you can rely on the accuracy of the data captured.
Multiple Registration Modes
Nice HMS offers various patient registration modes, ensuring convenience for both patients and healthcare providers. Here are some of the registration options:
Routine Registration:
In this mode, patient demographic details are manually entered into the system, ensuring accuracy and completeness.
ABHA Card:
The ABHA card, issued by ABDM, can be generated using the Nice HMS and linked to the patient's Aadhar card. Once generated, this card can be linked to popular health record apps like ABHA app, Arogya Sethu, Paytm, and more. This integration allows patients to access all their health records linked to their ABHA card through these apps.
OTP Registration:
Patients with mobile numbers linked to their ABHA card can receive a one-time password (OTP) for registration. This simplifies the process and ensures that the patient's demographic details match their Aadhar information accurately.
QR Code Registration:
The Nice HMS offers a convenient feature where the receptionist can scan the QR code on the patient's ABHA card to automatically register them. This eliminates the need for manual data entry and reduces the chances of errors.
QR Code for Hospital Registration:
Another useful feature is the ability to generate a QR code through the HFR (Health Facility Registry) of NHA. This QR code can be displayed in the patient lobby or on your website, allowing patients to register themselves easily and efficiently. This scan and share feature can generate revenue from DHIS scheme also.
Nice HMS: A Comprehensive and Affordable HIMS
Nice HMS isn't just about patient registration; it's a full-fledged HIMS with EHR (Electronic Health Records), accounting, and lab modules. The best part? It's economically priced, making it accessible to healthcare providers of all sizes.
Conclusion
Incorporating HIMS, especially a robust solution like the Nice HMS, into your healthcare facility can streamline the patient registration process, enhance data accuracy, and improve the overall patient experience. By offering multiple registration modes, including the integration of ABHA cards and QR code registration, healthcare providers can reduce wait times, minimize errors, and ensure that patients receive the care they need promptly. Simplifying patient registration through HIMS is a significant step toward delivering efficient and patient-centric healthcare services.
Ready to revolutionize your patient registration process? Contact us today and experience the Nice HMS advantage!
---
This Unlock the Future of Healthcare Management! 🚀🏥🌟
Is managing your hospital, clinic, or lab becoming a daunting task? Experience the ease and efficiency of our cutting-edge Management Software through a personalized demo.