The Growing Need for Clinic Management Software in India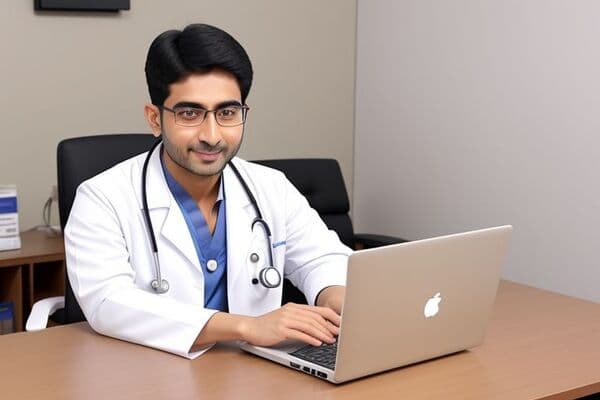 Abstract
The article highlights the growing significance of Clinic Management Software in India's evolving healthcare landscape, driven by the imperative to modernize practices post-COVID-19. Despite strides in digitization, a considerable number of Indian doctors still rely on traditional methods. Nice HMS, a triple milestone certified solution under the Ayushman Bharat Digital Mission, addresses this gap with user-friendly features, secure electronic health records, and innovative Aysuman Bharath Health Account (ABHA) creation. The adoption of Clinic Management Software becomes imperative for clinics aiming to thrive in the digital age, offering streamlined processes, enhanced patient convenience, and adherence to evolving healthcare standards.
The landscape of healthcare in India is undergoing a rapid transformation, particularly in the aftermath of the COVID-19 pandemic. The surge in technology adoption post-pandemic highlighted the gaps in the Indian healthcare system, prompting a significant shift towards leveraging technology. The success of the CoWIN vaccination program showcased the potential of health tech not only to Indian policymakers but also to global leaders.
In response, the Government of India has taken bold steps to digitize healthcare records across the nation, with the Ayushman Bharat Digital Mission (ABDM) leading the way. While these strides are commendable, a significant number of doctors in India still rely on traditional pen-and-paper methods for patient record-keeping. However, there is a noticeable trend among the younger generation, showing an increasing interest in embracing digital solutions. read more on how to improve medical practice
Regulatory Compliance and Data Security
The National Medical Commission's (NMC) guidelines now mandate clinics to maintain and store Outpatient Department (OPD) records for a minimum of three years from a patient's last visit. This departure from handwritten notes requires a more streamlined approach.
Managing manual patient records proves costly and less efficient, especially for clinics with limited space and staff. Physical records are prone to damage, and the process of producing multiple hard copies during consultations has been laborious. The need for a solution that is both efficient and secure is evident.
Key Features of Clinic Management Software
Nice HMS, an end-to-end solution tailored to the unique needs of Indian healthcare, holds triple milestone certification under ABDM. This cloud-based solution is not only cost-effective but also secure, having undergone rigorous functional and security testing by Certin, as prescribed by the National Health Authority (NHA). Its features include:
Appointment Scheduling and Reminders: User-friendly reminders facilitate efficient follow-ups.
Electronic Health Records (EHR) and Patient Information Management: Utilizing international standards like HL7 FHIR ensures scalability and interoperability as required by ABDM.
Billing and Invoicing: Following accounting principles ensures efficiency, with optimally placed MIS reports.
Prescription Management: Streamlining the process and incorporating a cloning feature for follow-ups reduces repetition.
Integration with Diagnostic Tools and Laboratories: Seamless integration with diagnostic machines, coupled with user role protection, ensures the security of unfinalized reports.
ABHA Creation and Patient Registration
Nice HMS, as an ABDM triple milestone certified solution, has implemented the creation of Aysuman Bharath Health Account (ABHA) and a mechanism for registering patients using ABHA. Patient registration using ABHA is both simple and accurate, further enabling clinics to access patient records not only within their own facilities but also from other hospitals and clinics.
The Benefits of EMR Systems
Nice HMS, with its Electronic Medical Records (EMR) capabilities, offers a practical solution that enhances both accessibility and security of patient information.
Streamlining Access to Patient Records: Transitioning from physical records to an EMR system simplifies access, making a patient's complete medical history readily available with just a few clicks.
Aligning with Healthcare Initiatives: In line with government initiatives like ABDM, the NHA has standardized EMR implementation in Indian clinics, urging a shift from traditional methods.
Simplifying Record Creation: ABDM standards simplify record creation, mirroring how doctors document day-to-day patient records.
Advanced Prescription Management: Nice HMS ensures a seamless transition, offering an intuitive prescription module that simplifies the prescription creation process.
Enhanced Patient Convenience: Integration with WhatsApp facilitates seamless report delivery, enhancing patient convenience and reducing unnecessary visits.
Send reports and prescription by Whatsapp: With Nice HMS you can send patient reports by whatsapp too
Embracing the Future of Healthcare
The growing need for Clinic Management Software in India is not merely a response to regulatory changes but a proactive step towards a more efficient, secure, and interconnected healthcare future. As India's healthcare landscape becomes increasingly complex, adopting Clinic Management Software is no longer just a choice but a necessity for clinics and hospitals striving to stay ahead in this digital age.
Explore Affordable and Comprehensive Solutions
Nice HMS, designed for both clinics and hospitals, offers an affordable end-to-end software solution. For pricing details or to request a demo, please visit the provided link or fill out the contact form below, and our team will promptly get in touch with you.
Conclusion
In essence, the article underscores the transformative potential of Clinic Management Software in India. The benefits of Electronic Medical Records, coupled with the innovative approach of Aysuman Bharath Health Account, signify a shift towards a more connected and comprehensive healthcare ecosystem. As clinics and hospitals adapt to these digital solutions, they contribute not only to their own efficiency but also to the ongoing evolution of healthcare practices in the digital era.
---
This Unlock the Future of Healthcare Management! 🚀🏥🌟
Is managing your hospital, clinic, or lab becoming a daunting task? Experience the ease and efficiency of our cutting-edge Management Software through a personalized demo.