Understanding ABDM's Document Requirements for Doctors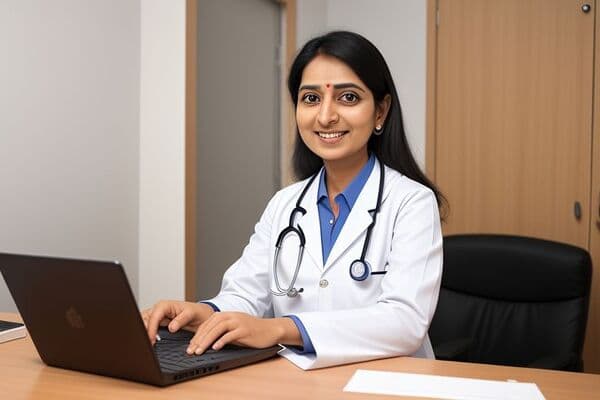 Abstract
In this blog post, we explore the misconceptions and realities of what ABDM expects from medical practitioners in India. We emphasize the importance of embracing digital patient records and its minimal integration effort. The blog highlights the disconnect between EMR systems and ABDM in many hospitals and the reluctance of reception staff to utilize ABHA cards. We debunk the myth of excessive documentation, clarifying that ABDM's requirements are simple and align with routine medical practices. We also discuss the types of documents expected, including prescriptions, OP consultations, diagnostic reports, discharge summaries, and health document records. Embracing digital transformation is key for the future of healthcare.
In the realm of healthcare, staying updated with evolving technologies is essential. One such development that's been creating a buzz is ABDM or the Ayushman Bharat Digital Mission. However, there seem to be some misconceptions about what ABDM expects from doctors, which can hinder its seamless integration into our daily medical practices. In this blog post, we'll clear the air and shed light on what ABDM genuinely requires from doctors.
Embracing Change
Change is never easy, but ABDM's transition to digital patient records doesn't demand a monumental effort. As responsible citizens of India, doctors play a vital role in ensuring the health of all Indian citizens. With this in mind, we need to make a modest yet meaningful effort to embrace this digital transformation.
The EMR Conundrum
In many hospitals, Electronic Medical Records (EMR) systems are already in place, often used for generating diagnostic reports. However, these systems frequently remain disconnected from ABDM. This disconnect is primarily due to the software used by many hospitals, which may lack compatibility with ABDM and exhibit resistance to change.
The Reluctance at Reception
Another intriguing observation is the reluctance of reception staff to register patients using ABHA cards, even though the process is straightforward. Reception staff might often utilize patient Aadhar data but shy away from ABHA cards. This reluctance is rooted in longstanding practices, compounded by the absence of management's insistence on ABHA card usage.
The Myth of Excessive Documentation
One common concern among doctors is the fear that ABDM demands excessive documentation when treating patients. However, the truth is quite the opposite. The types of documents ABDM expects are relatively simple and are already being generated as part of regular medical practice.
Types of Documents Expected
1. Prescription: The prescription document is straightforward, containing short notes and prescribed drugs. Detailed documentation is not necessary, making it the most commonly used document. The Nice HMS system offers an efficient and user-friendly prescription document that can be easily cloned for future patient visits, improving efficiency.
2. OP Consultations: For more detailed outpatient consultations, you can opt for this document. It allows for the inclusion of outpatient procedure information.
3. Diagnostic Reports: This document is versatile, covering a range of diagnostic reports, not limited to just laboratory or radiology. It can be used for procedures like angiography, endoscopy, angioplasty, and OT notes. The Nice HMS has implemented this feature seamlessly.
4. Discharge Summary: The Nice HMS has a well-implemented discharge summary feature, offering unlimited templates to streamline the process. Typing is made easier with MS Word-like macros and shortcut features.
5. Health Document Record: For doctors who prefer not to type, ABDM allows for scanning handwritten prescriptions and uploading them. This feature is also integrated into Nice HMS.
Incentivizing ABDM Acceptance: The DHIS Scheme.
Within the context of understanding ABDM's Document Requirements for Doctors, it's important to highlight the DHIS scheme, which plays a pivotal role in encouraging healthcare providers to embrace ABDM. Under this scheme, hospitals and clinics are offered a substantial incentive, with the National Health Authority (NHA) providing a generous payment of Rs 20 for each record shared. This incentive not only encourages healthcare institutions to integrate with ABDM but also signifies a commitment to modernizing healthcare practices in India. It's a win-win scenario that benefits both medical professionals and the patients they serve, ensuring a smoother transition into the digital healthcare landscape
Conclusion,
ABDM's expectations from doctors are reasonable and user-friendly. It's all about simplifying and streamlining processes for the betterment of patient care. And for those who believe that ABDM demands excessive documentation, it's time to dispel that myth. The transition to digital patient records is a step forward, making healthcare more accessible and efficient.
If you're interested in exploring the comprehensive capabilities of Nice HMS, an end-to-end Health Information Management System, don't hesitate to request a demo. It's a tool designed to simplify your medical practice and enhance patient care. The future of healthcare is digital, and embracing it can only lead to better outcomes for everyone involved.
---
This Unlock the Future of Healthcare Management! 🚀🏥🌟
Is managing your hospital, clinic, or lab becoming a daunting task? Experience the ease and efficiency of our cutting-edge Management Software through a personalized demo.